Is it cold outside? You have two choices: settle for the "dreadmill" or be brave and face the winter cold. So what's it going to be? The latter? Good choice! Running in the winter is certainly not for the faint of heart but can be every bit as fulfilling and enjoyable.
If you are really hooked on running and serious about taking your winter runs to the next level, having the right gear is crucial. Trust us, it makes all the difference. Want to protect yourself against slipping, sliding or crashing through the icy trails? How about staying warm while you run?? You are in the right place! Follow this guide for all the info on the best cold weather running gear. From the best running clothes, shoes and accessories, to useful tips to get you through the cold, we got it all covered. Let's begin!
Running in Winter? 3 Things to Consider Before You Go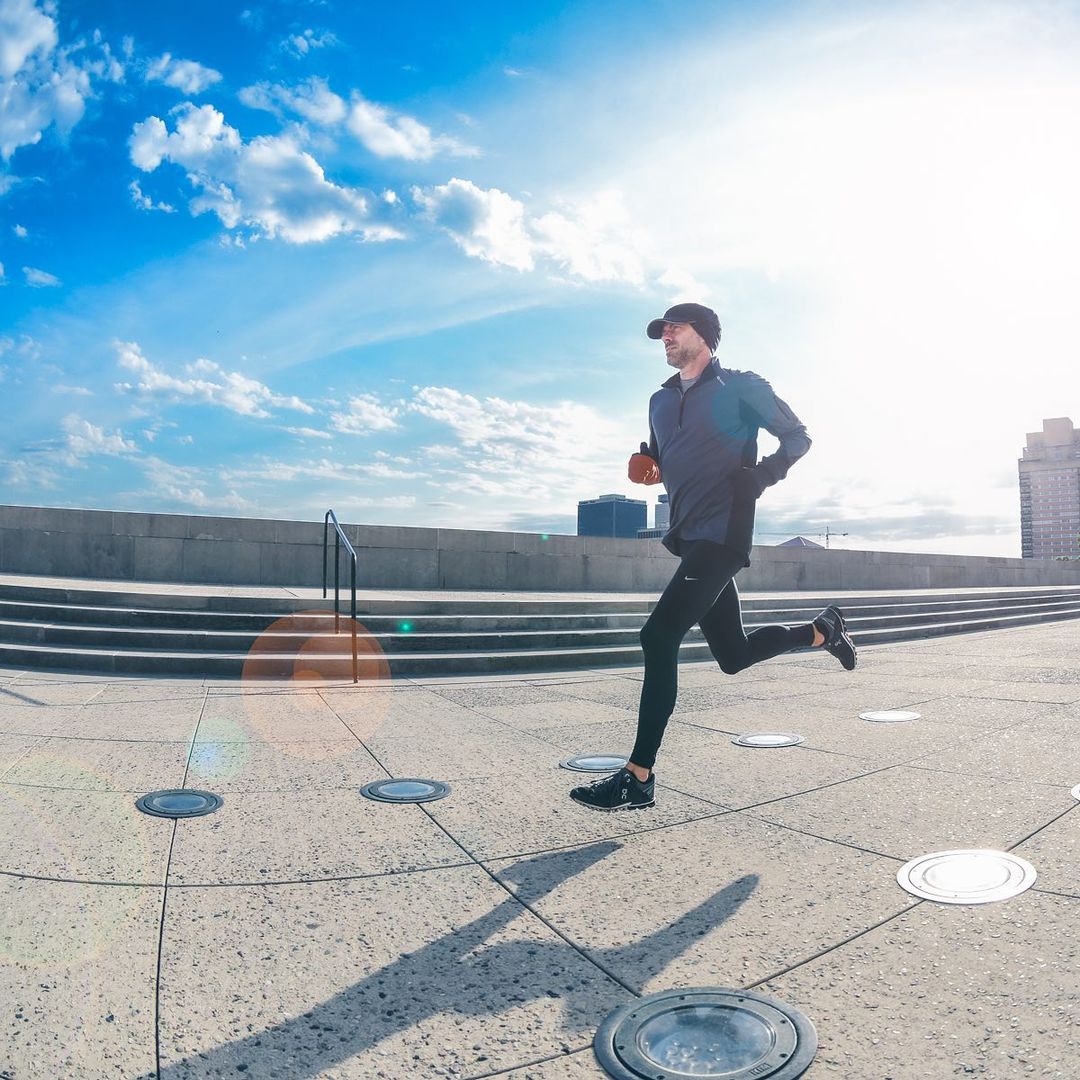 Every person responds to temperature and weather conditions differently. Here are some factors you need to consider before buying your first winter running gear:
1. Your Cold Tolerance - Do you tend to burn hot? Are you always cold? How does your body tolerate low temperatures? Running in extreme weather conditions can take a big toll on your body. It's important to take into account your body's ability to regulate very low temperatures so you can buy the most suitable running gear for your needs.
2. Pacing - What's the pacing of your runs? Do you usually take long runs? Generally, humans run a bit slower when it's cold. There are plenty of things that can affect your running pace when it's cold such as tighter muscles, external conditions and even the clothes you're wearing.
3. Weather Conditions - What is the weather outside? Obviously, it's cold. Is it also snowing? How is the wind factor? All these factors influence the kind of gear you need for your winter run.
Layering 101: Winter Running Gear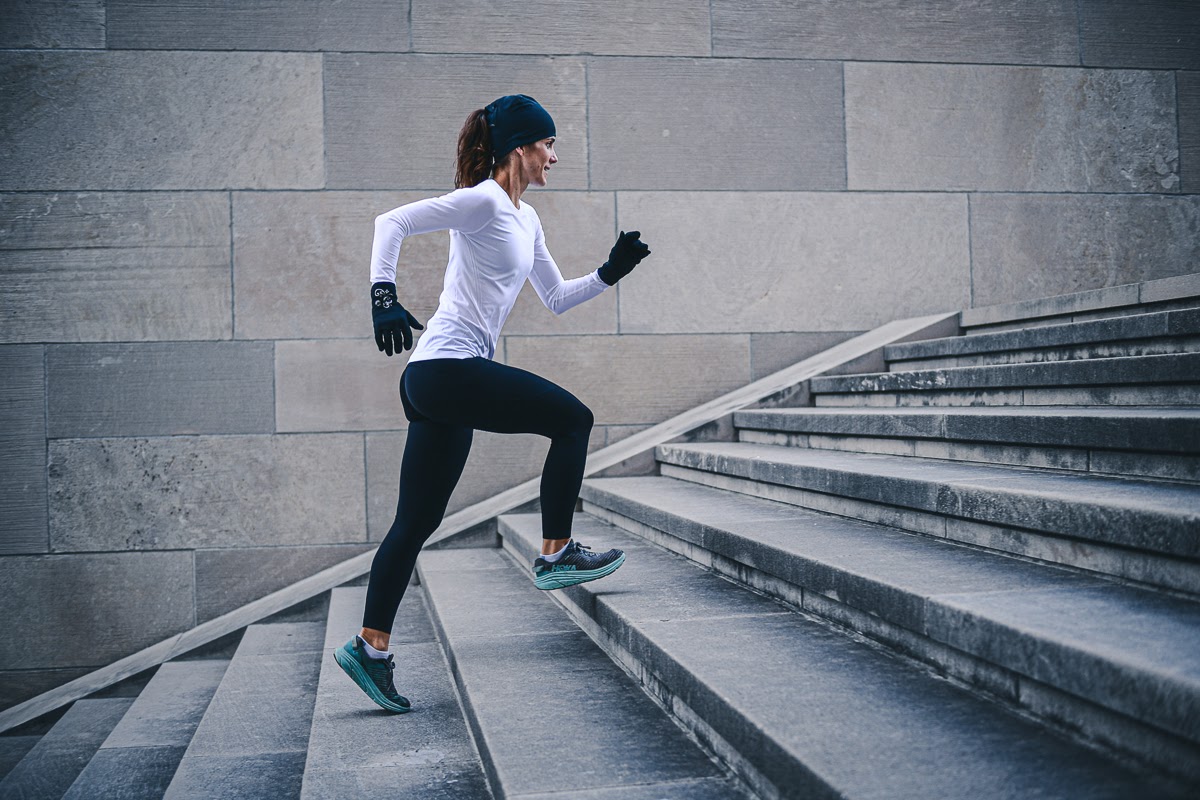 Before we get to the gear stuff, let's talk a little about the basics. Layering is the key to surviving the dreary winter cold! Basically, you'll need a base layer, mid-layer and outer layer; each one has its own purpose. Let's briefly go through each layer below:
1. All About that Base (Layer) - The clothing next to your skin is probably the most crucial layer. It needs to be light and able to wick sweat away from your body. Obviously, cotton is a big no-no since it absorbs moisture. The last thing you need on a winter run is a drenched t-shirt with a gusting wind on your back. Thus, moisture-wicking fabrics such as wool, polyester or synthetics are your top choices for base layers.
2. Find Your Inner Fleece (Mid-Layer) - The next one is the warmth layer and has the job of regulating your body temperature. The best mid-layers are fleece, down or synthetics. You can also add or remove mid-layers depending on how cold or warm you get.
3. Outer Layer Matters - Your outer shell has to be windproof and waterproof. Its main job is to protect you from the elements: wind, rain, snow, sleet and ice. Finally, the outermost layer needs to be breathable as well. If it's not, sweat and moisture will be trapped in the under layers which will keep you cold and can even lead to hypothermia.
Aside from these layers, you also need to consider winter-appropriate running shoes and accessories. Your extremities (like your hands and feet) are farther away from your heart which means it takes more effort to get the blood flowing in these areas. It is therefore a must to keep them covered and protected when you're out running.
The Essential Winter Running Gear
Let's go ahead and discuss the essential clothing, shoes and accessories to keep you warm and toasty during your winter runs. Let's take it one layer at a time, shall we?
Contents
Winter Running Base Layers
---
➤ Best Winter Wicking Tops

BEST FOR WOMEN

L.L. Bean Midweight Crew Base Layer
Soft, breathable base layer made from a blend of polyester and elastane.
---

BEST FOR MEN
L.L. Bean Cresta Wool Ultralight Base Layer
Lightweight merino wool base layer. Doesn't hold odors and very quick drying.
---
L.L. Bean is our go-to brand for moisture-wicking base layers! From merino to polyester, there's a variety of fabric and design options for both the ladies and gents. Go for merino if you tend to sweat a lot because this material stays warm even when wet. We find that synthetics like polyester hold up a lot better especially with repeated use and washing though.
L.L Bean has diverse sizes, and the base layer shirts stay true to size without being too clingy on the skin. Each piece is warm, breathable and perfect for layering! We also love the very convenient thumb hole feature in their long-sleeve tops that prevent them from sliding up when layered over.
Tip: Ultralight base layers are ideal for temperatures above 30 degrees. Go for midweight base layers if you're running in temperatures below 20 degrees.
➤ Best Winter Running Tights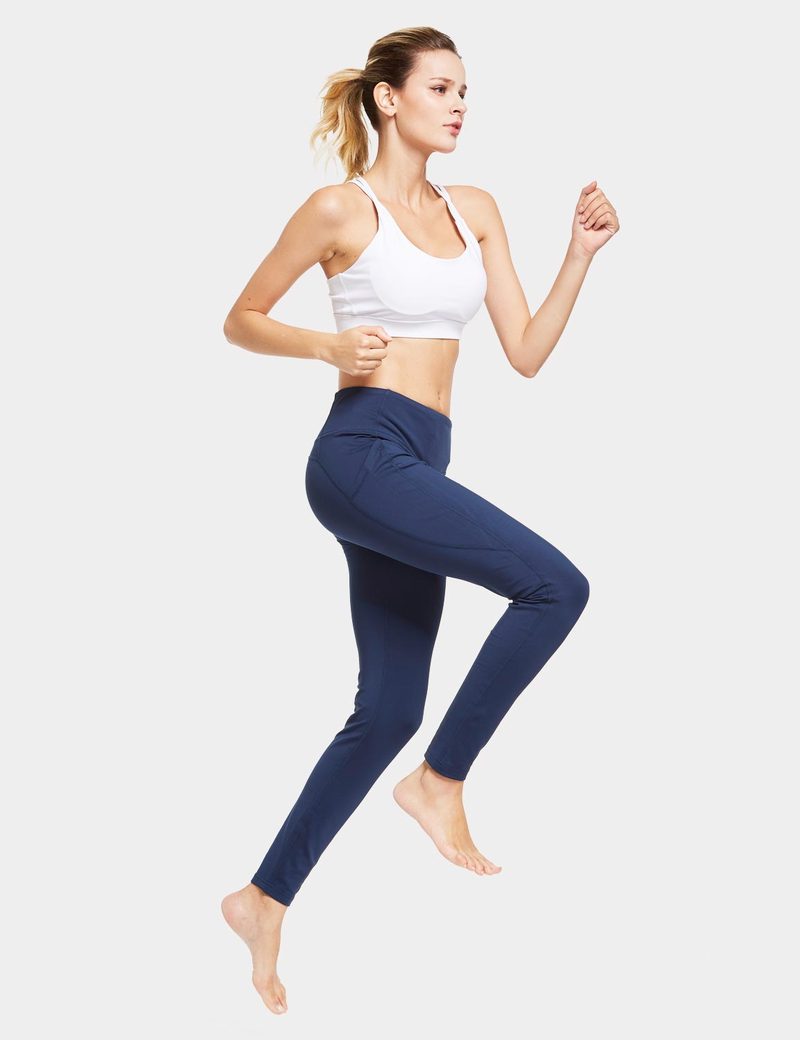 BEST FOR WOMEN
Baleaf Fleece Lined Leggings
Warm and flexible tights made from a combo of polyester and spandex. Comes with useful pockets and reflective prints.
---
BEST FOR MEN
Craft ADV Essence Warm Tights
Made from polyester and elastane blend for ultimate flexibility and softness. Excellent fit but with a fully adjustable waistband.
---
Investing in good quality running tights is important since your legs will be doing all the work. You need tights that are slightly thicker and flexible preferably with some compression ability. For the ladies, these fleece-lined leggings from Baleaf are super soft and warm. They also fit great and wick sweat so you don't have to worry about anything while running. We love that it's pretty stylish too. It's crucial for men to invest in a few pairs of fully supportive and warm running tights. Something like these polyester tights from Craft which are specifically made for training in cold weather! They come with a slew of useful features such as elastic waistbands, a back pocket and reflective prints. You will definitely go the distance when you have a pair of these on!
Winter Running Headwear
---
➤ Best Winter Running Hats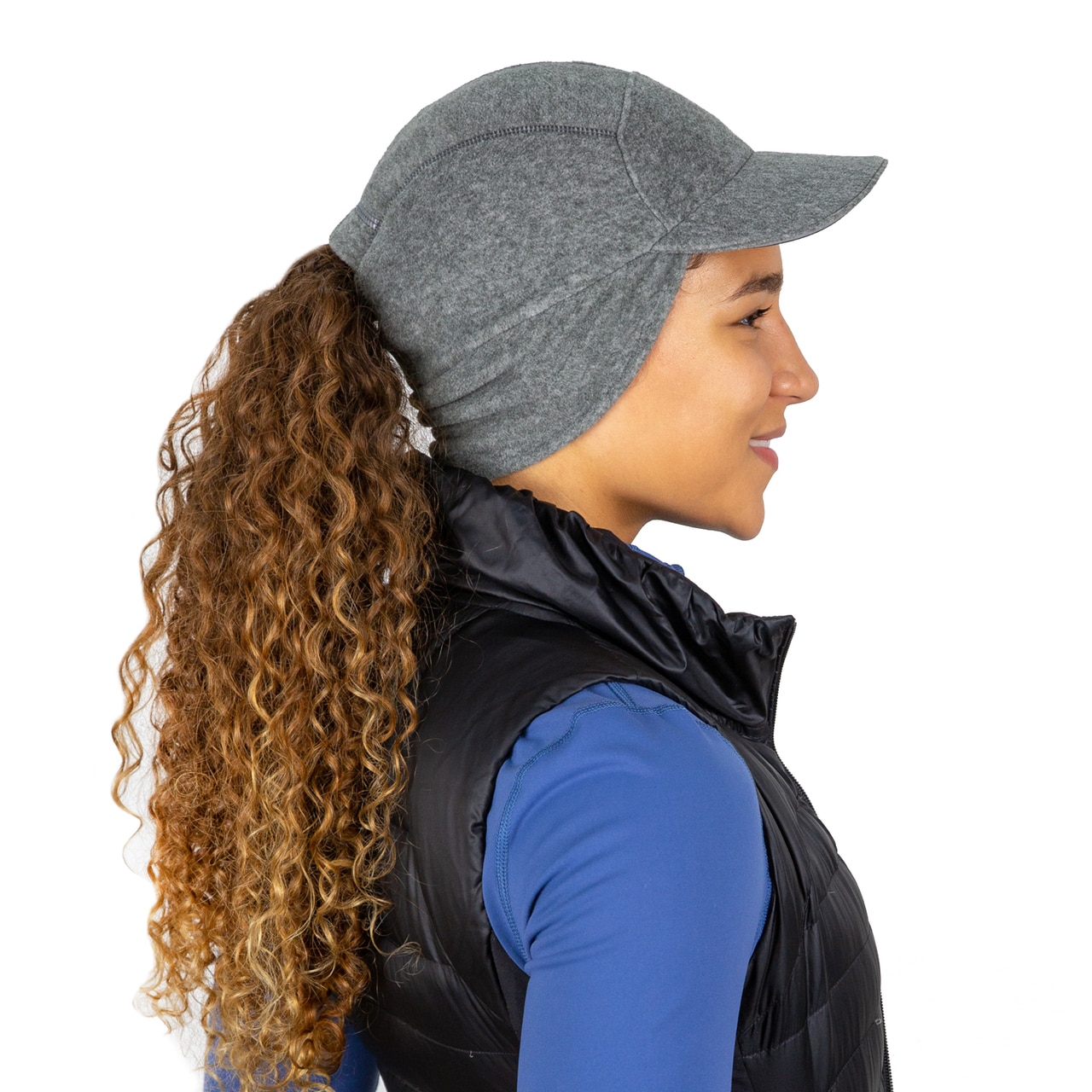 BEST FOR WOMEN
Trailblazer Ponytail Hat for Women
Multi-purpose running hat made from recycled polyester. Features drop-down fleece for extra warmth. Soft, comfy and perfect for your winter runs.
---
BEST FOR MEN
Trailblazer Ponytail Hat for Men
Soft and flexible fleece running hat. Features a drop-down flap for added warmth. Stylish design great for running or any other activity.
---
Sun's out but you can still feel the chilly cold? Try these running hats from our Trailblazer series! These comfy and stretchy hats feature a drop-down fleece flap to protect your ears and neck from the cold. Too hot outside? You can easily fold the flap up and the hat turns into a regular ball cap! The wide brim also keeps the sun, snow and rain out of your face. Extra features like the reflective accents and pony hole (for the ladies) make these hats such a great addition to your winter running essentials.
➤ Best Winter Running Beanies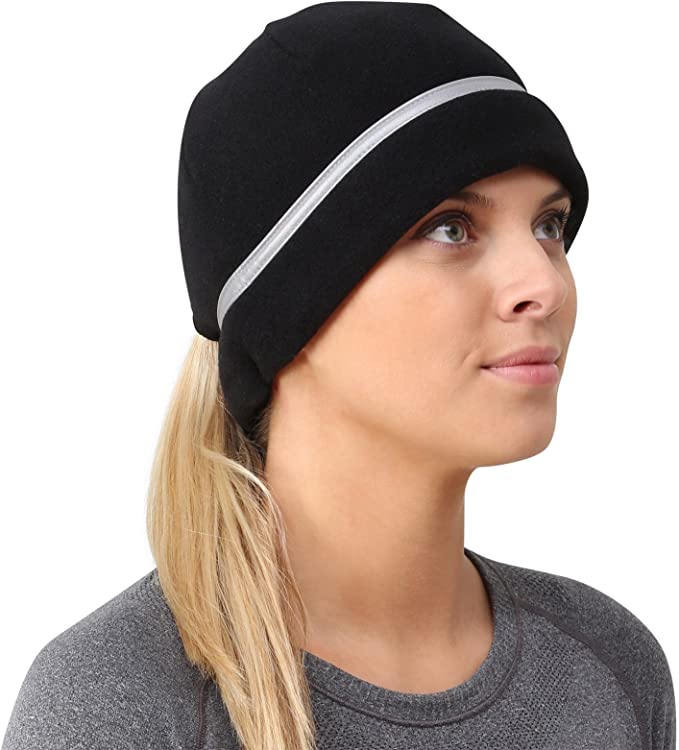 BEST FOR WOMEN
TrailHeads Women's Reflective Running Beanie
Made from 100% polyester fleece for maximum warmth and moisture resistance. Comes with a ponytail hole and reflective band.
---
BEST FOR MEN
TrailHeads Men's Be-Seen Pocket Hat
Made from 100% polyester fleece for maximum warmth and moisture resistance. Comes with a secret pocket and reflective band.
---
Protecting your noggin from the winter cold is also important! The ideal winter beanie should be warm, sweat (or rain) resistant and comfy. And that's where TrailHeads running beanies come in. Our stylish and reflective running hats are made from fleece, fit snugly and will keep you warm during your winter adventures. Have trouble controlling your hair when running? Our ponytail beanie comes with a pony loop so you don't have to worry about your tresses when you're training!
➤ Best Winter Running Headbands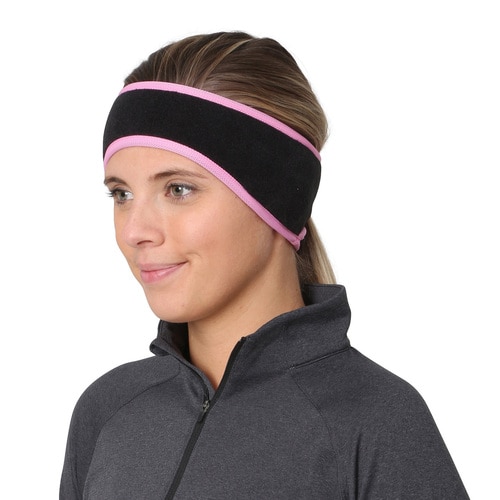 BEST FOR WOMEN
TrailHeads Women's Ponytail Headband
Lightweight fleece headband for sunny winter days. Keeps your forehead and ears covered while your pony stays in place.
---
BEST FOR MEN
TrailHeads Men's Winter Running Headband
Moisture-wicking fleece headband for men. Super comfy, form fitting and stretchy. Great for mild winter conditions.
---
Stick to lightweight headbands for above freezing temperatures! These headbands from TrailHeads will keep you cozy and toasty when it's not so cold outside. They're made from fleece and wick moisture away so you won't have to worry about sweat falling down your face on a run. These are great to wear on their own or to layer under a hat when it gets really cold. Just like our beanie, the women's headband version also has a pony loop to keep your hair controlled when running.
Winter Running Mid-Layers
---
➤ Best Winter Insulating Tops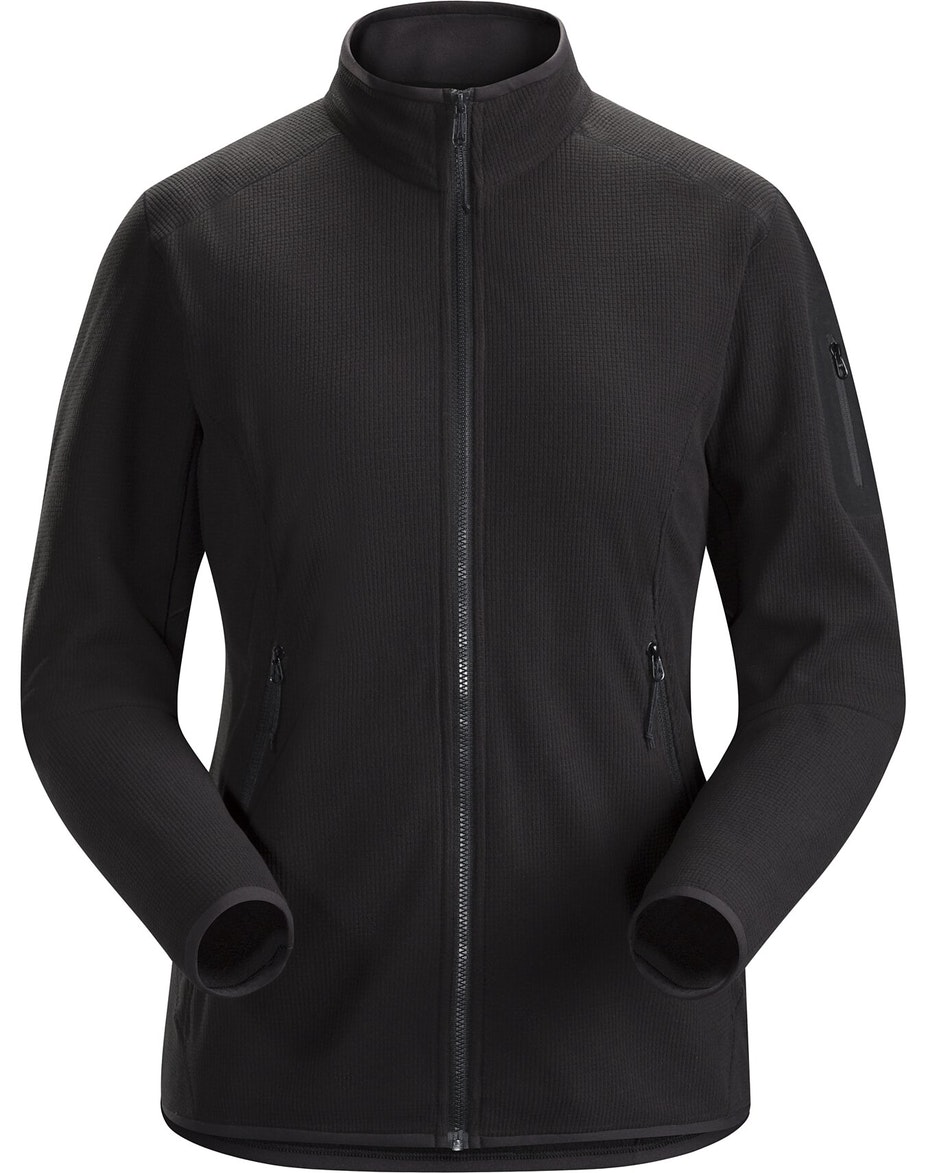 BEST FOR WOMEN
Arc'teryx Delta Fleece Jacket
Made from Polartec, a quick-drying fleece material. Extremely lightweight, seamless and warm.
---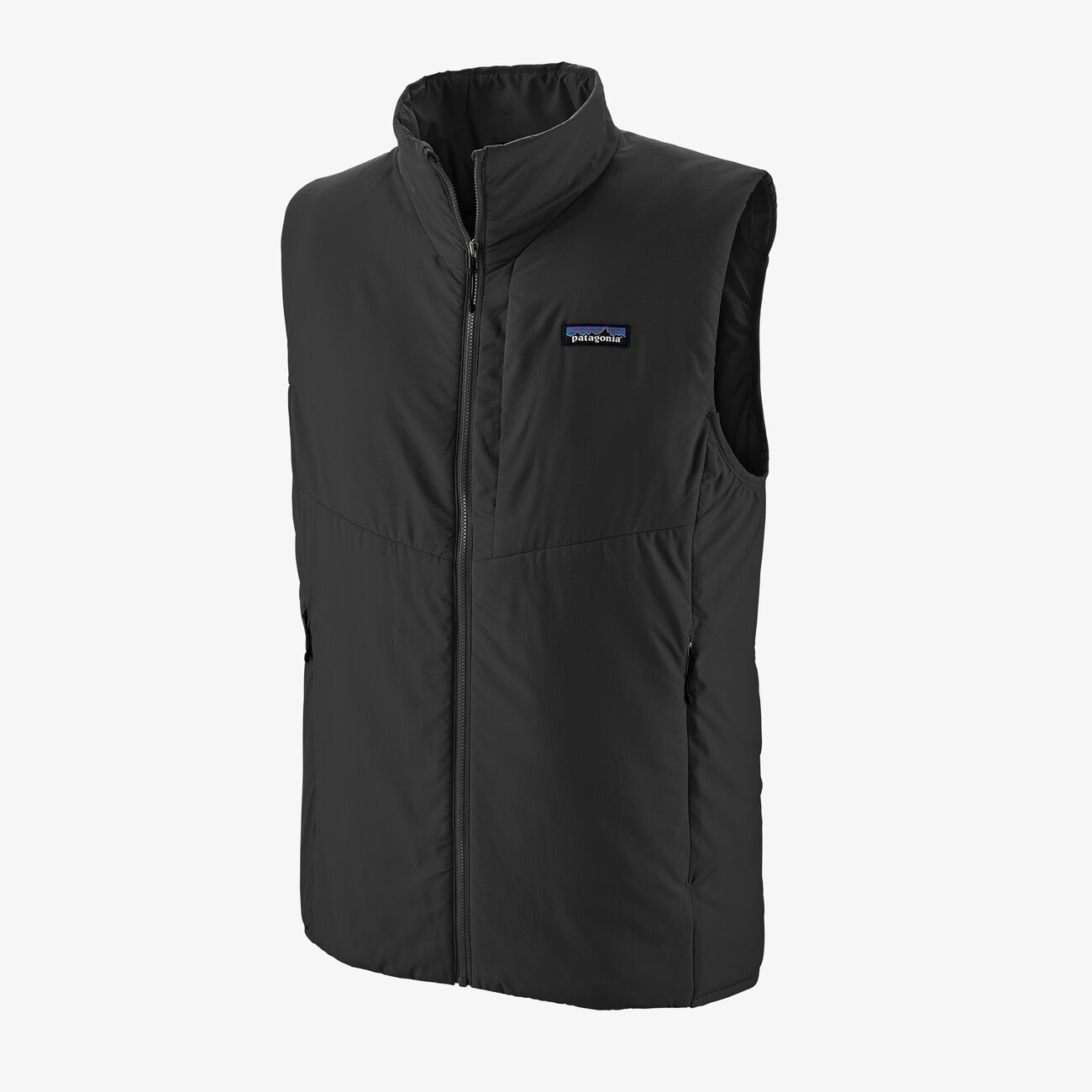 BEST FOR MEN
Patagonia Nano Air Vest
Versatile polyester vest perfect for layering for warmth. Durable, lightweight and provides enough insulation especially when layered over wool.
---
You won't always need a mid-layer but when you do, you'll be glad you have one. Mid-layers need to be insulating and breathable, not necessarily weatherproof (that's the outer layer's job). When it comes to running jackets, we prefer lightweight ones that don't insulate too much. Our top choices are this zip-neck fleece mid-layer from Arc'teryx and the nano air vest from Patagonia. Both are great when layered over a merino base and will keep you toasty warm when it's too cold.
➤ Best Winter Thermal Bottoms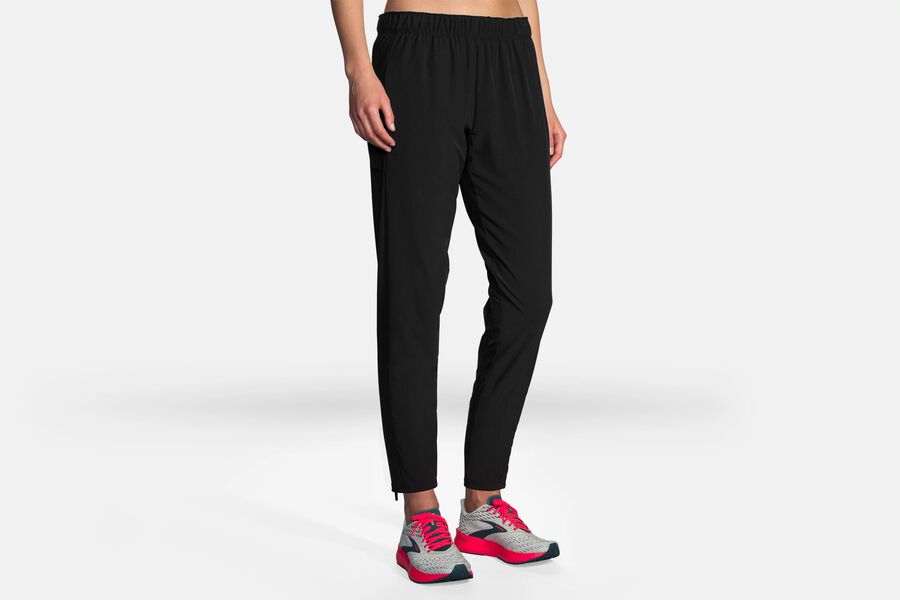 BEST FOR WOMEN
Brooks Shakeout Running Pants
Versatile track pants made from drilayer, polyester and spandex. Great for layering or wearing on its own!
---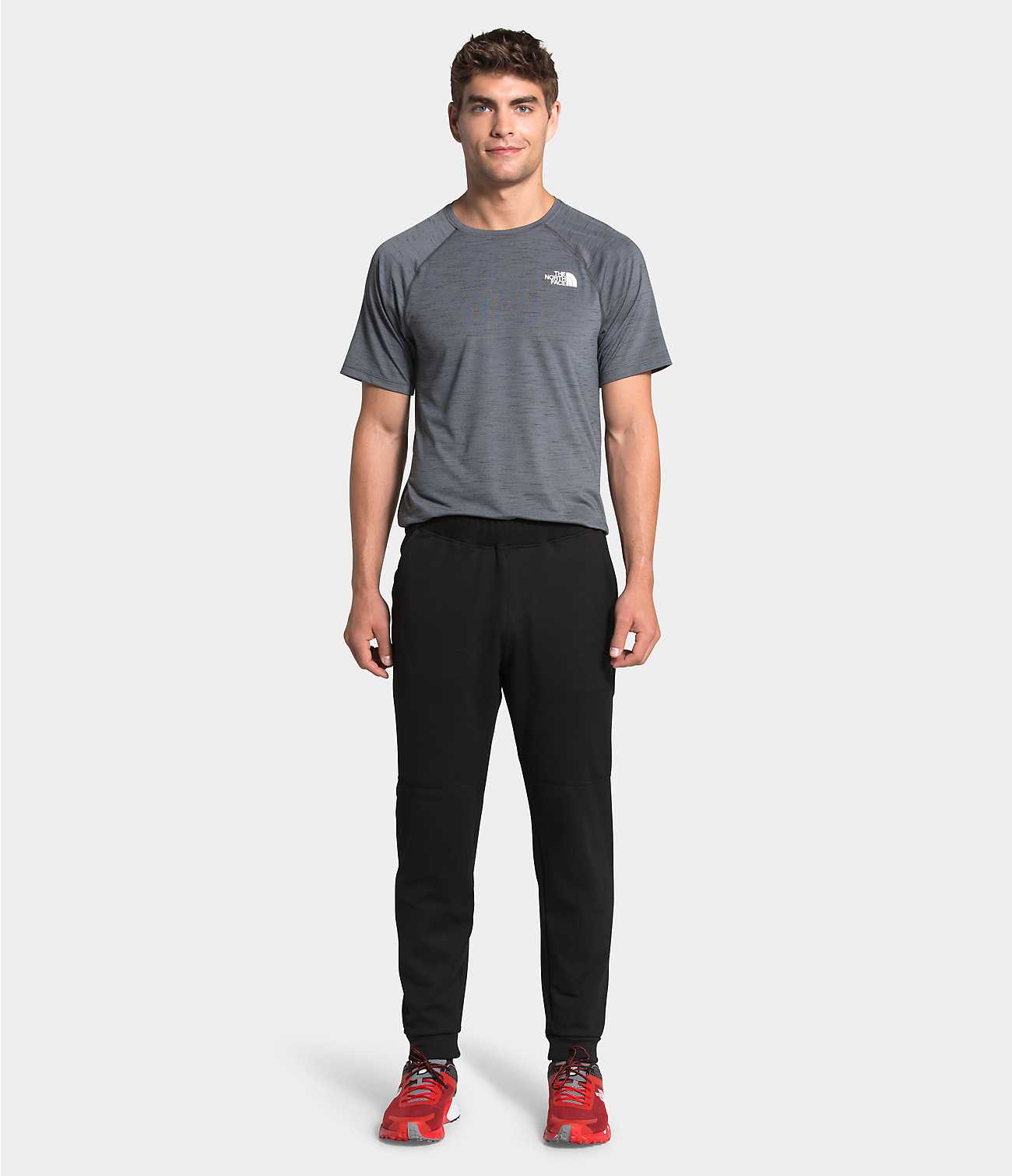 BEST FOR MEN
The North Face Kinetic Fleece Jogger
Stretchable fleece pants perfect for running in the cold weather. Features an elastic waistband and hidden pocket.
---
Extra chilly? You'll need an added pair of insulation aka fleece pants. Add on a pair of these joggers and you'll never worry about freezing your legs when running. For the ladies, check out this pair of comfy and stylish track pants from Brooks Running. It's perfect to layer over leggings for added warmth! For the gents, this jogger from The North Face is very lightweight and not bulky. Great for running or even just lounging around!
Winter Running Neck & Face Accessories
---
➤ Best Winter Running Buffs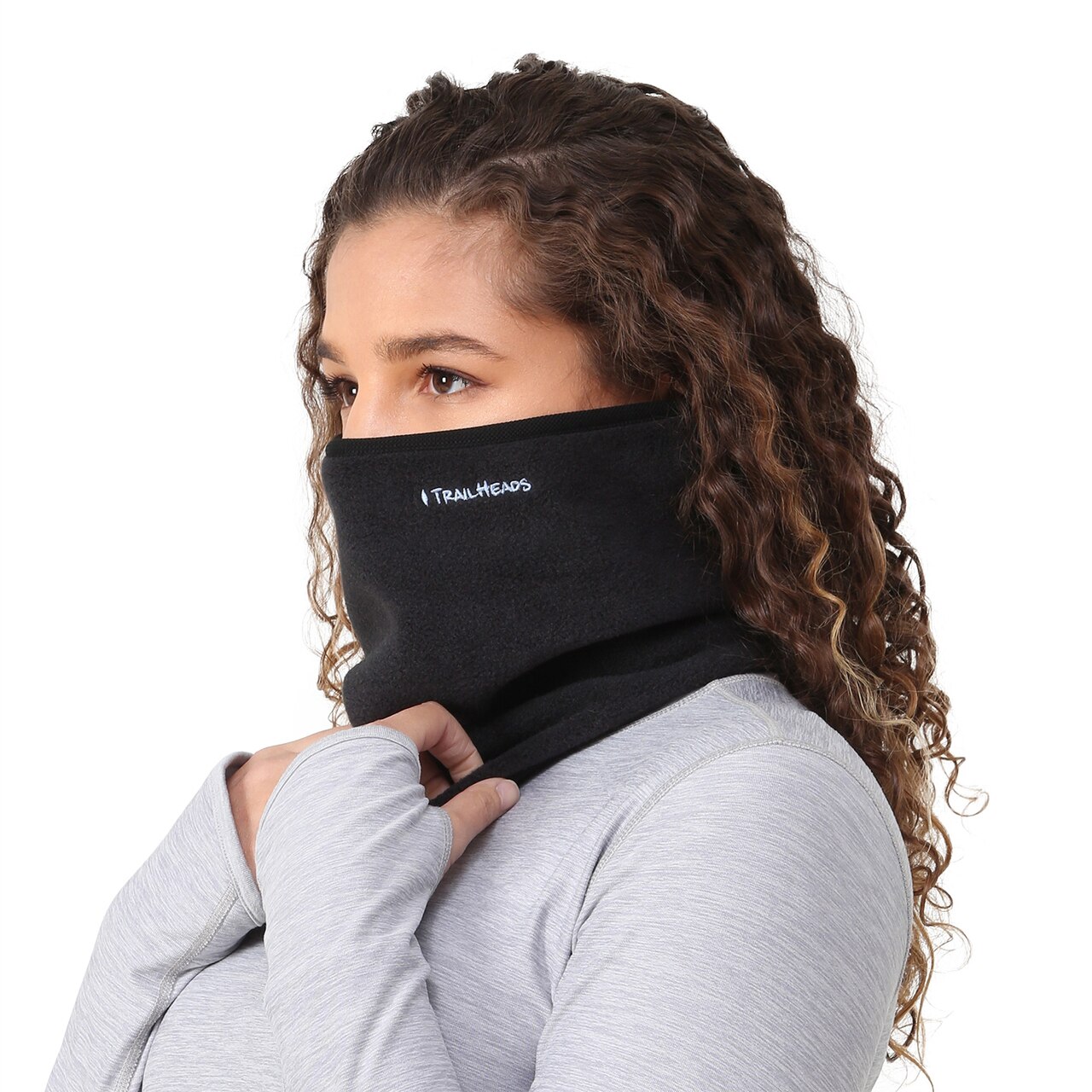 BEST FOR WOMEN
TrailHeads Gaiter Neck Warmer
Versatile buff to cover your face, neck and ears. Made from warm and comfy polyester fleece.
---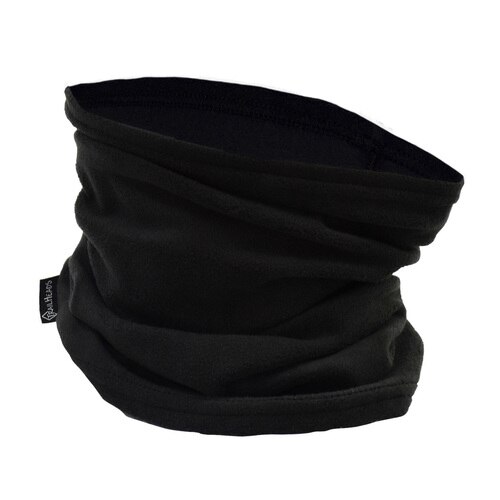 BEST FOR MEN
TrailHeads Contoured Fleece Neck Warmer
Moisture-wicking fleece neck warmer for men. Contoured fit can be fully adjusted for varying head and neck sizes.
---
A versatile gaiter is a great addition to your running ensemble! It works as a neck warmer, face mask, headband, sun blocker, and a lot more. In our opinion, synthetic gaiters are still the best because they're incredibly lightweight, breathable and dry fast. That's why our neck warmers are made from either fleece or polyester! Our buffs are very comfy, fit snugly and will keep you cozy warm. They're great to wear on their own or you could layer them under your hat when it's too chilly or raining.
➤ Best Winter Running Sunglasses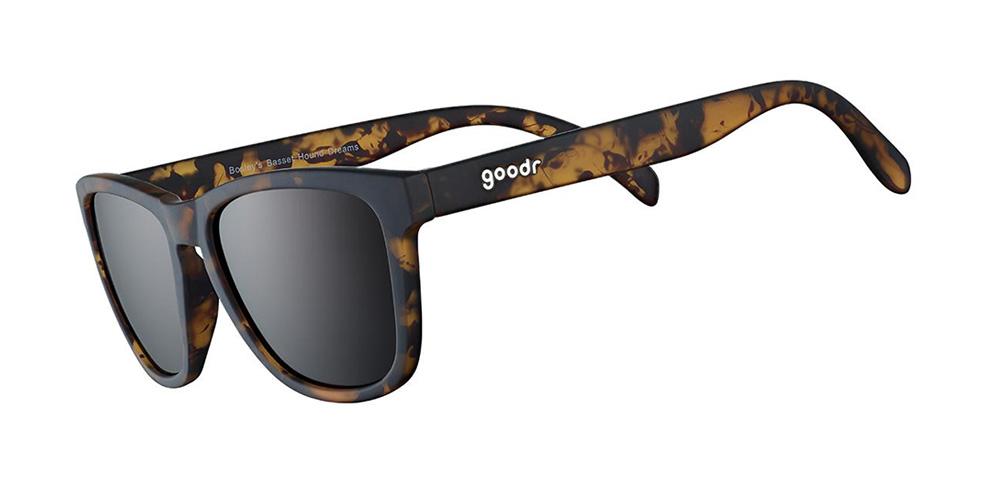 BEST FOR WOMEN
Goodr Bosley's Basset Hound Dreams
Stylish, polarized, non-slip and lightweight, what more can you ask for?
---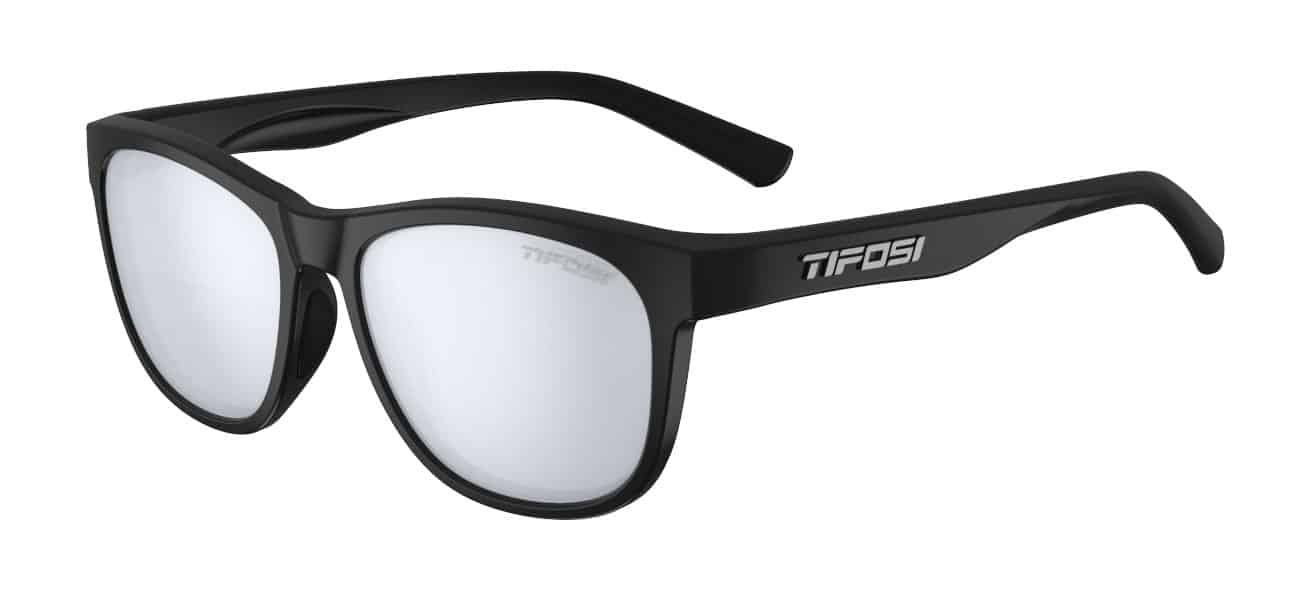 BEST FOR MEN
Tifosi Swank Satin Black
Budget-friendly polarized sunglasses perfect for sporty men. Shatterproof and non-slip design.
---
Two brands we trust for running specs are Goodr and Tifosi. For the fashion-savvy women, you've got a lot of choices with Goodr and they're built pretty tough too. This one's available in leopard print if high fashion is your thing. For the sporty men, the Tifosi Swank in Satin Black is our top choice (there are a lot of other design options) because of the sleek design. Did we mention both are under 25 bucks?? Leave your flashy Ray-Bans at home and opt for a pair of running-friendly sunglasses instead. We prefer polarized sunglasses that are specifically designed for movement. So even if you're out and about, you are still protected from dust, dirt, wind, UV rays and more
Winter Running Outer Layers
---
➤ Best Winter Hardshells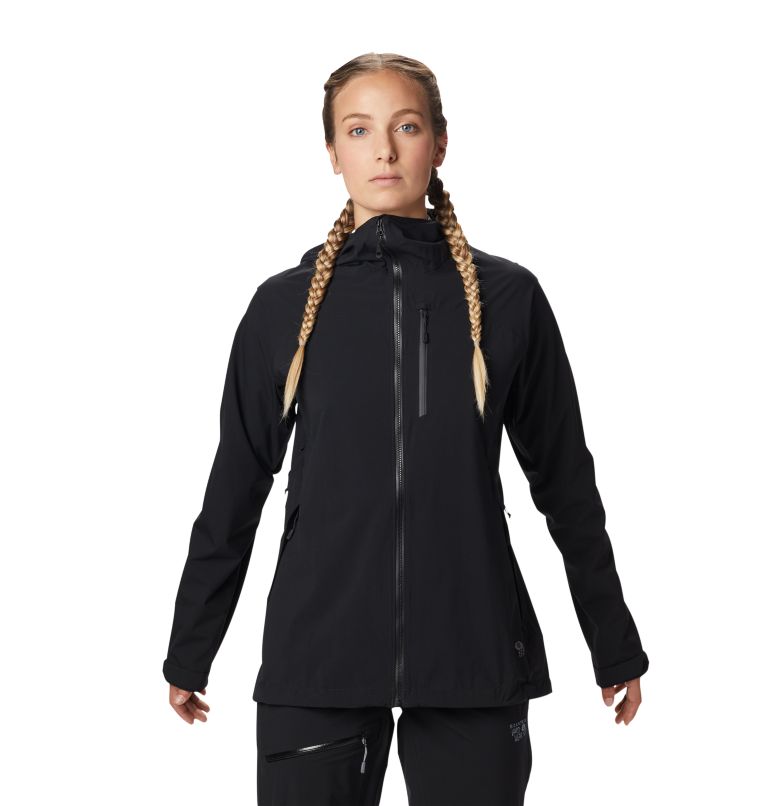 BEST FOR WOMEN
Women's Stretch Ozonic Jacket
This lightweight and breathable jacket is perfect for rugged weather conditions. Truly waterproof and windproof.
---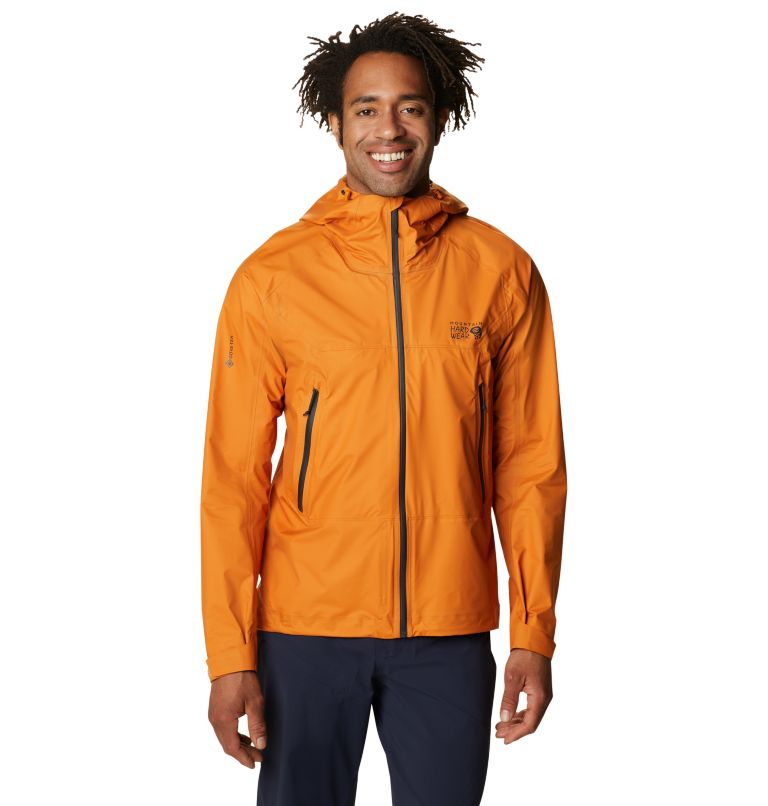 BEST FOR MEN
Mountain Hardwear Quasar Lite Exposure Jacket
Three-layer Gore-Tex ensures ultimate protection against the elements - wind and rain included. Very lightweight and packable design.
---
With the right base layers, these hardshells will keep you warm and protect you from the elements. We also love the added features like the adjustable hood and hem which are really useful when you want to feel extra warm and toasty. Do size up if you're adding a lot of layers or a puffy underneath! A hardshell comes in handy when it's really rough out there. We're talking extreme winter weather - snow, below 20 degrees Fahrenheit, the whole works. We love these Gore-Tex Exposure hardshells from Mountain Hardwear for such situations. These are lightweight, windproof and breathable - which is exactly what you need when running through harsh winter weather.
➤ Best Winter Softshells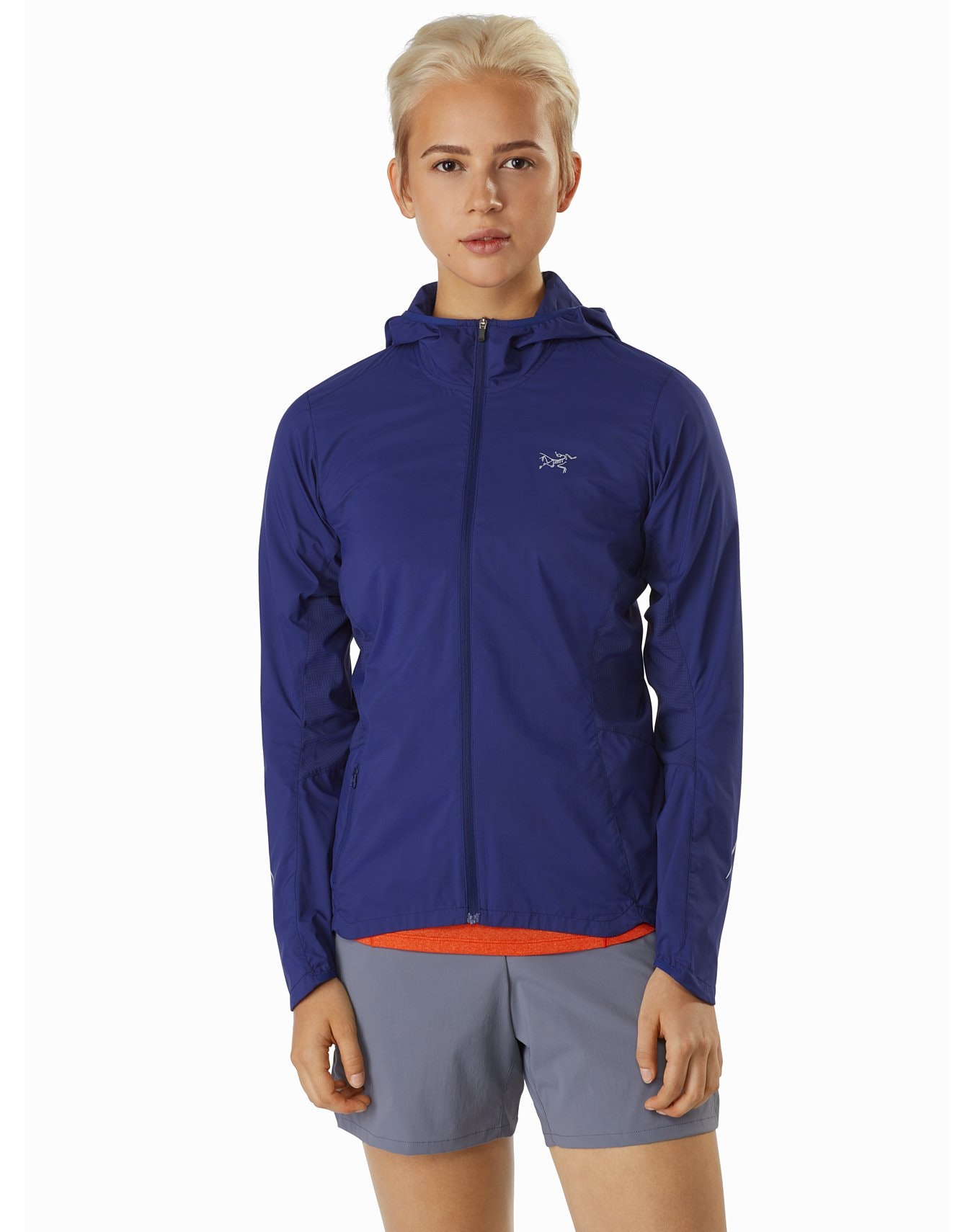 BEST FOR WOMEN
Arc-Teryx Cita Hoody
Very lightweight nylon jacket; breathable, windproof and water-resistant. Versatile and adjustable for perfect fit.
---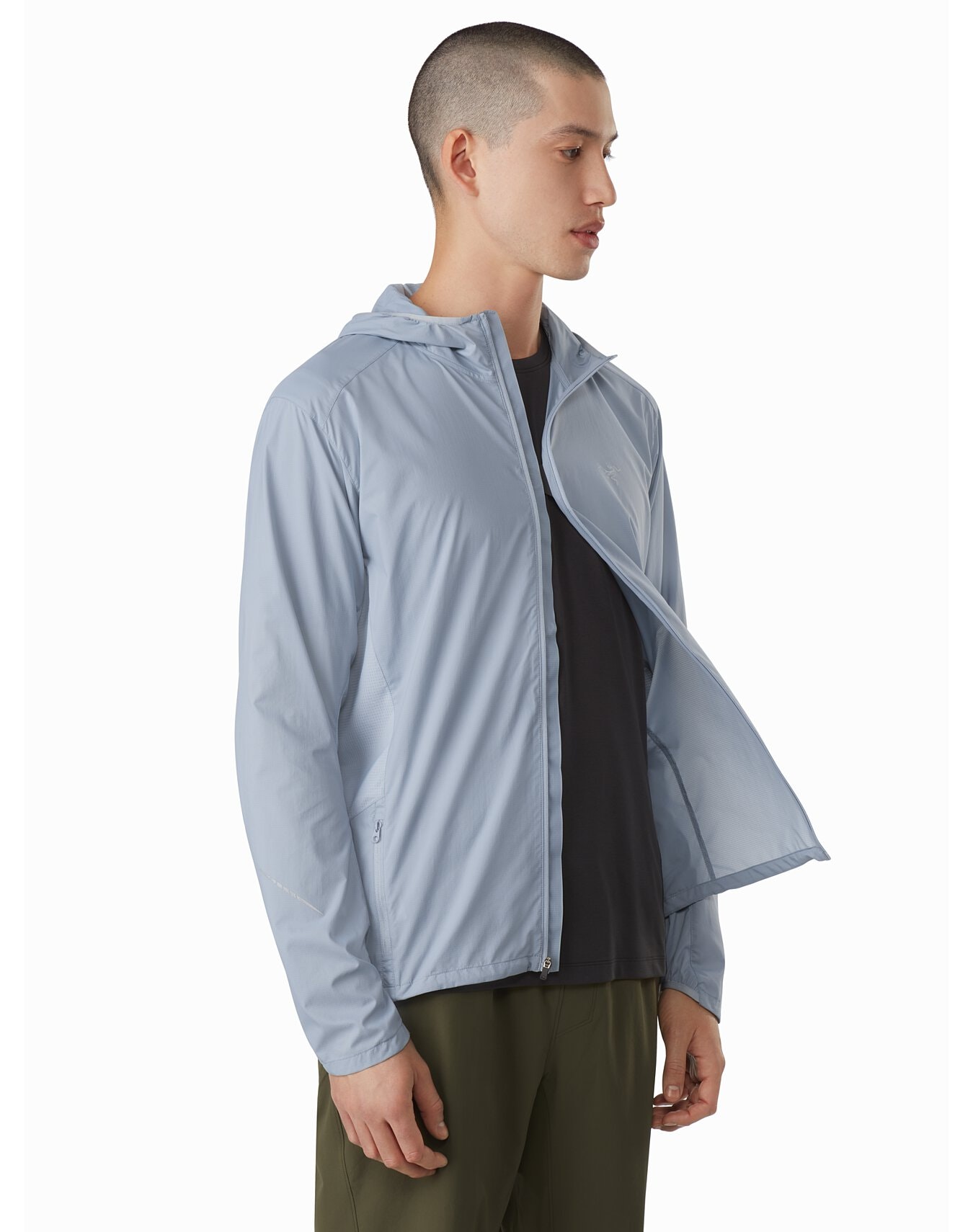 BEST FOR MEN
Arc-Teryx Incendo Hoody
Made from lightweight Lumin fabric, the Incendo is a windproof and water-resistant softshell for light winter weather.
---
These softshells are also great for light drizzles and despite the thinness, provide enough warmth when layered over merino or other heat-retaining base layers. There's a lot of colors to choose from and other features that can come in handy (like the reflective blades, mesh underarm panels and more). Softshells are perfect for mid-range winter conditions. When it's that time between fall and winter or when it's ranging 30 to 50 degrees outside, you can opt for a light softshell instead of a hardshell. These Arc-Teryx softshells are our favorite when it comes to mild winter conditions! They're thin, lightweight and offer some protection against the elements.
Winter Running Accessories for Hands & Feet
---
➤ Best Winter Running Gloves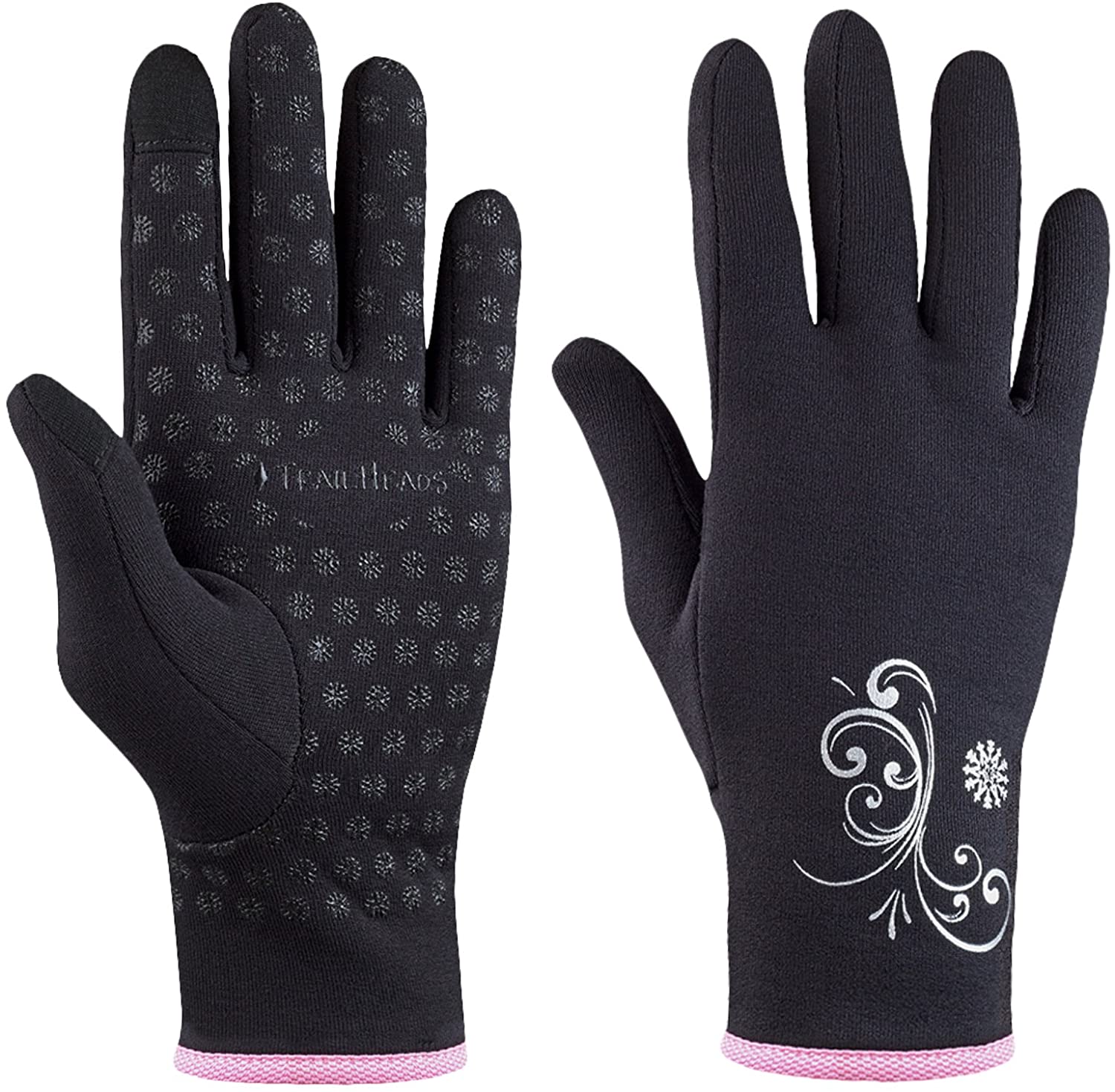 BEST FOR WOMEN
TrailHeads Women's Running Gloves
Soft and comfy running gloves with a cute snowflake design. Moisture wicking, wind resistant and touch screen compatible.
---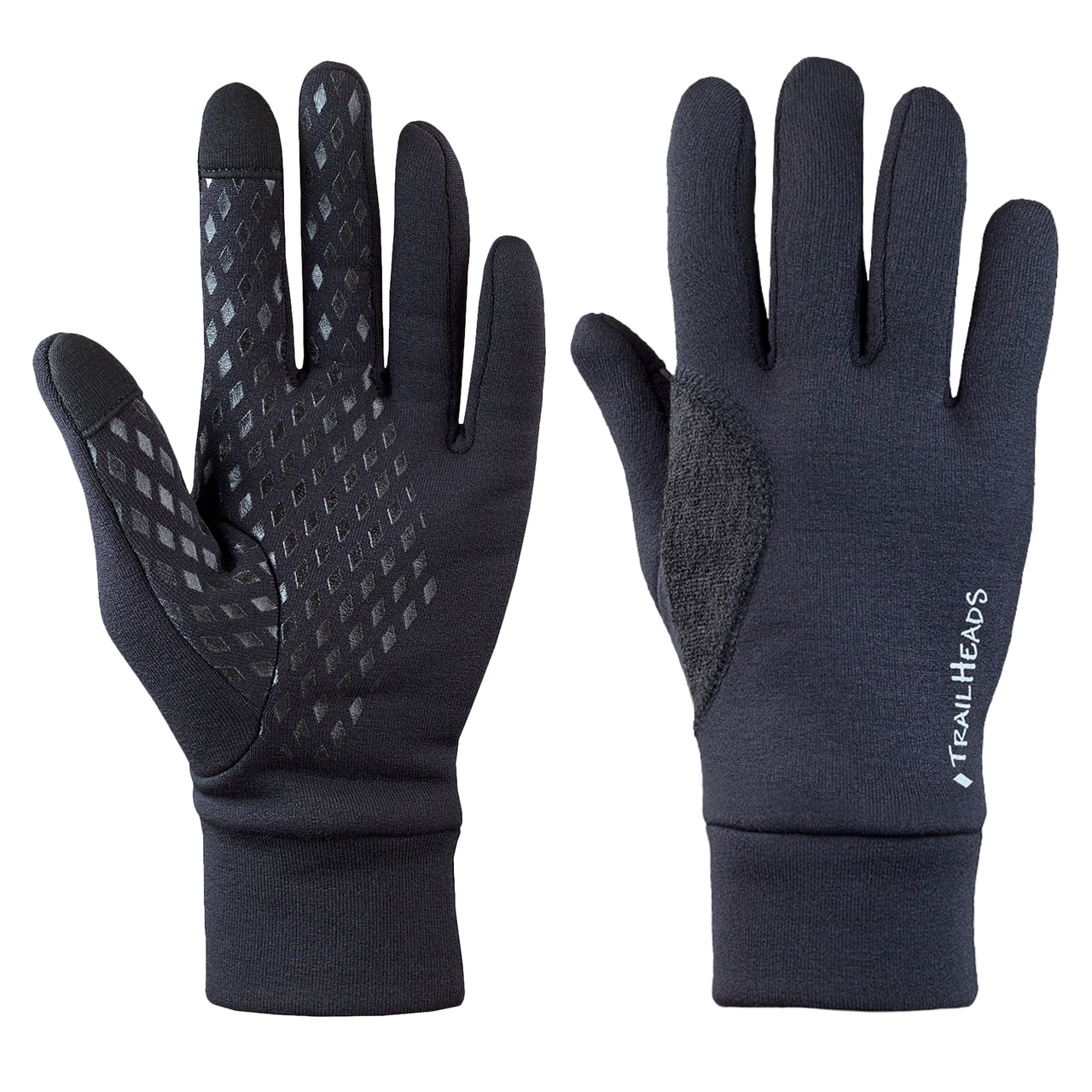 BEST FOR MEN
TrailHeads Men's Running Gloves
Made from durable Polartec material, resists both wind and moisture. Perfect lightweight gloves for cold weather running.
---
For mild to moderate winter conditions, aka temperatures in the 30s down to the 20s, runners tend to need lightweight gloves that are warm enough to protect your hands during a warm up, but not so heavy that you overheat or feel weighed down as your run continues. You will still need warm moisture wicking and wind blocking gloves on these days. Of course our very own TrailHeads gloves are a huge check on these things and more! Plus, they're touch screen compatible too so you won't need to remove them if you want to use your phone.
➤ Best Winter Running Mittens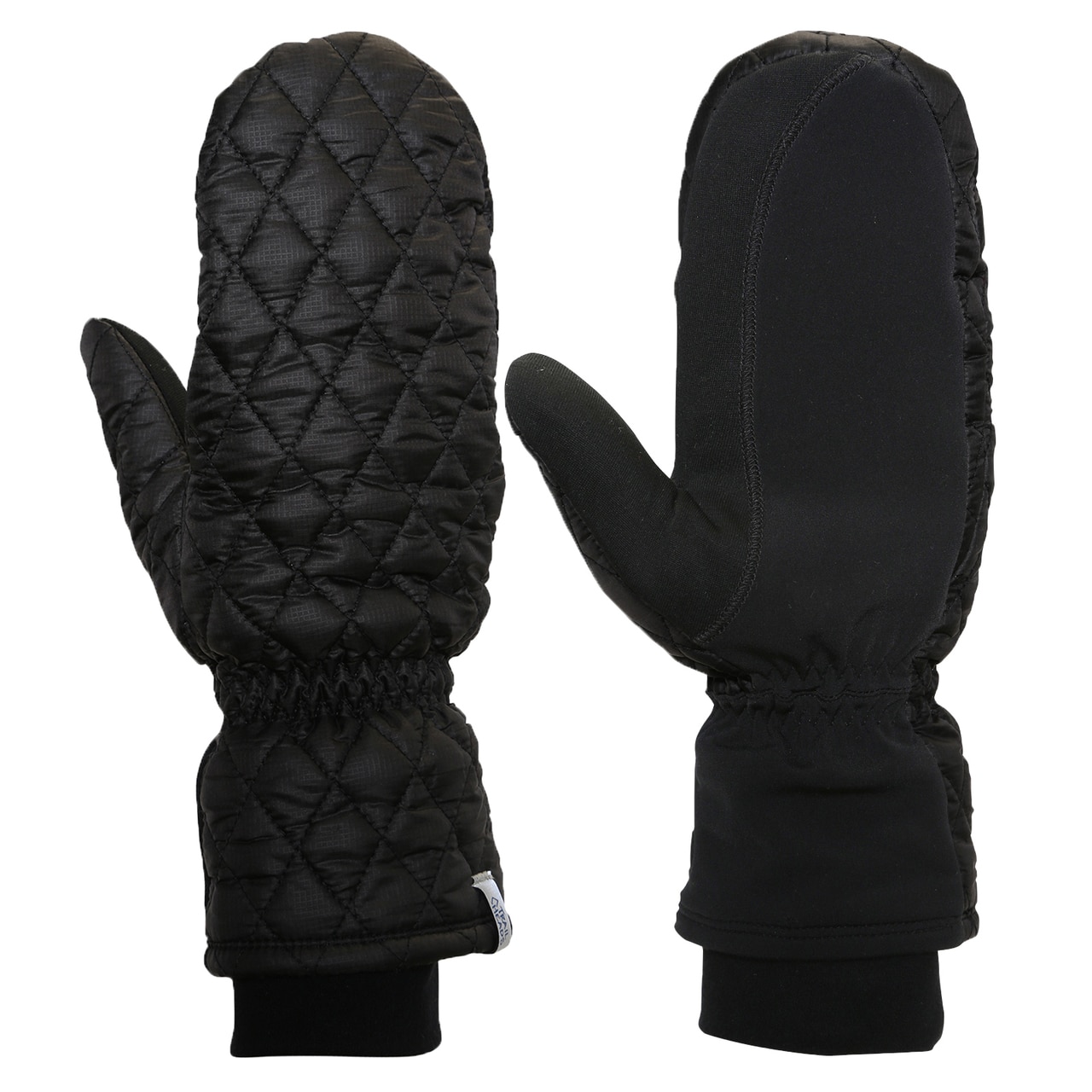 BEST FOR WOMEN
TrailHeads Quilted Mittens for Women
Made from synthetic fleece, these mittens are plenty warm yet lightweight. Can be worn on their own or layered over liner gloves.
---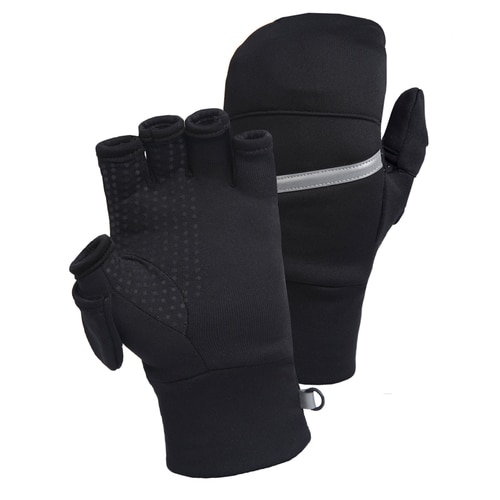 BEST FOR MEN
TrailHeads Convertible Mittens for Men
Versatile mittens can be converted into fingerless gloves as needed. Warm, cozy and made for movement.
---
For those runners who want warmer handwear, or live in colder climates, consider mittens. Mittens tend to be warmer than gloves because your fingers share body heat more easily than when they are separated. Our Convertible Mittens are great for temperatures down to 20 degrees. For even more warmth, try our Quilted Mittens which have some insulation and if desired can be layered over a liner glove. We recommend these for temperatures down to 15 degrees when used during aerobic activity. Just like our gloves, these mittens are also touch screen compatible.
➤ Best Winter Running Socks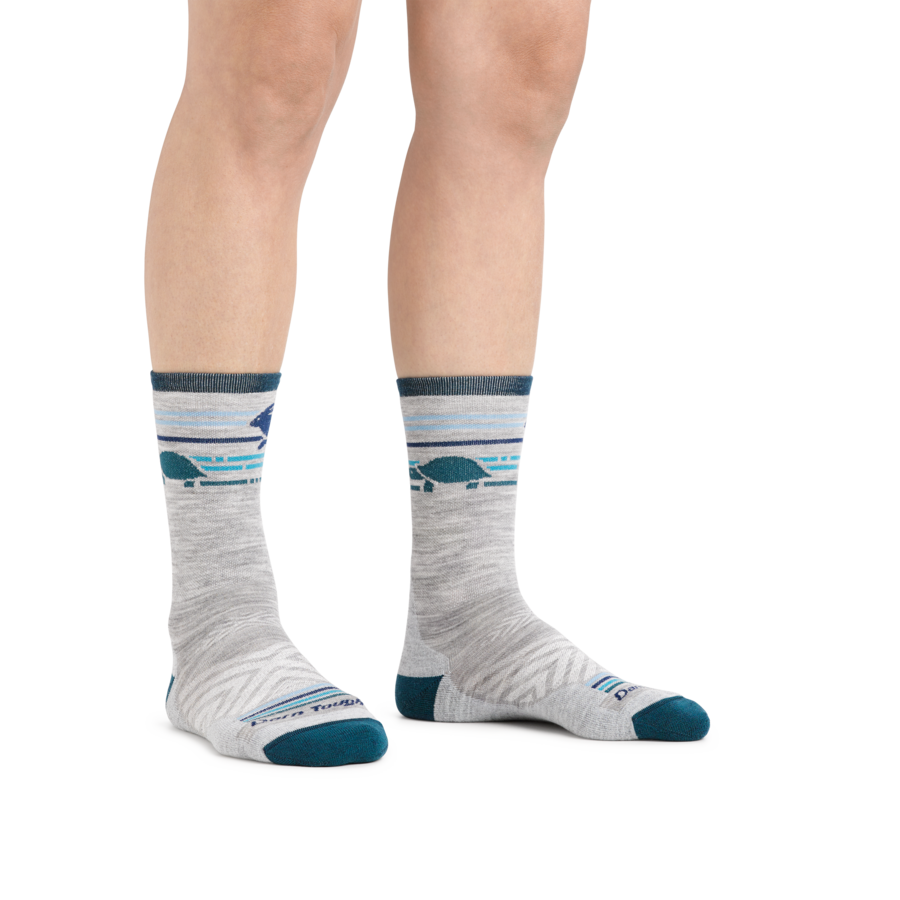 BEST FOR WOMEN
Darn Tough Pacer Micro Crew Running Socks
Ultra lightweight running socks. Keeps you warm during winter. Moisture wicking, odor repellent and fast drying.
---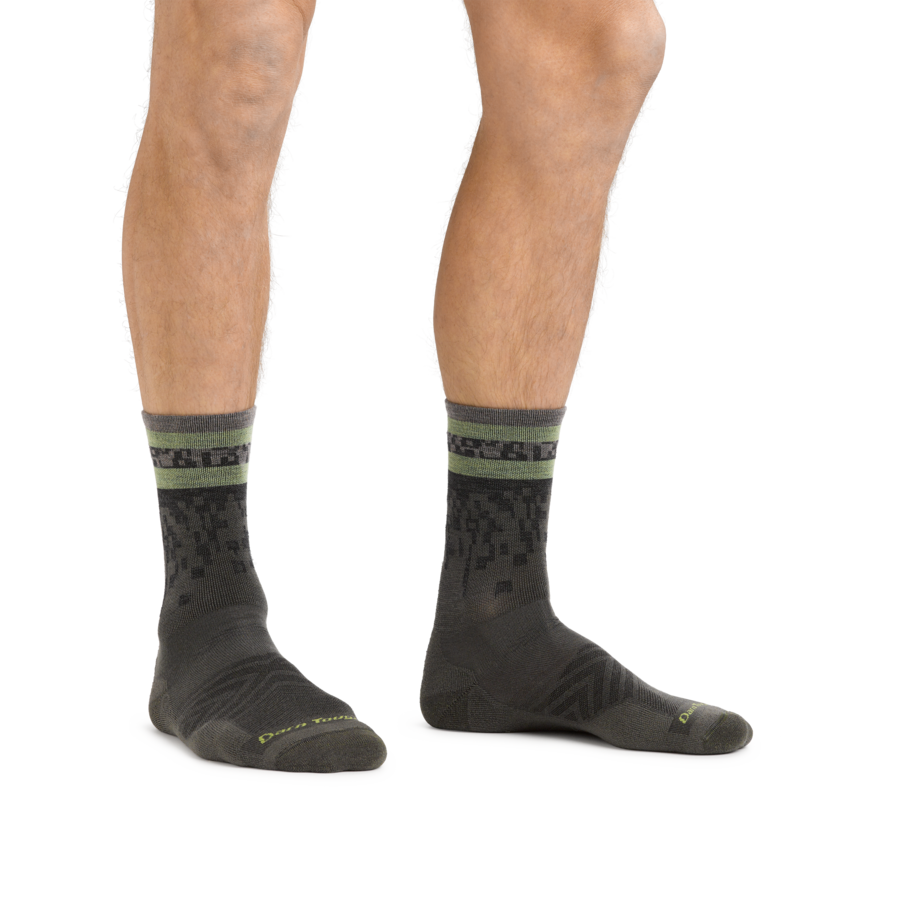 BEST FOR MEN
Darn Tough Tempo Micro Crew Running Socks
Made from lightweight and odor-resistant merino wool. Perfect for all kinds of weather, especially winter. Comfy fit and great design.
---
There's no question: merino wool is the key to great winter running socks! It's odor resistant, lightweight, moisture wicking and fast drying. These ultra lightweight and comfy socks are perfect for any weather. Yes, including extreme winters! There are plenty of design options but we prefer the micro crew ones (or those above the ankles) for ultimate protection against the cold when running.
Winter Running Shoes
---
➤ Best Road Running Shoes (Little to No Snow)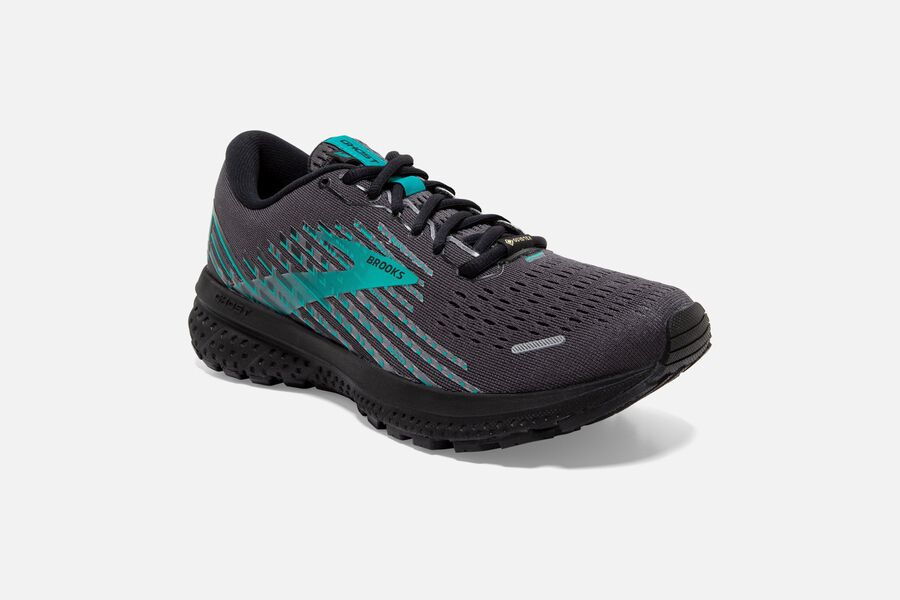 BEST FOR WOMEN
Brooks Ghost 13 GTX (Women)
Made from sturdy Gore-Tex, fully waterproof and lightweight. Reliable road running shoes for mild and wet winter conditions.
---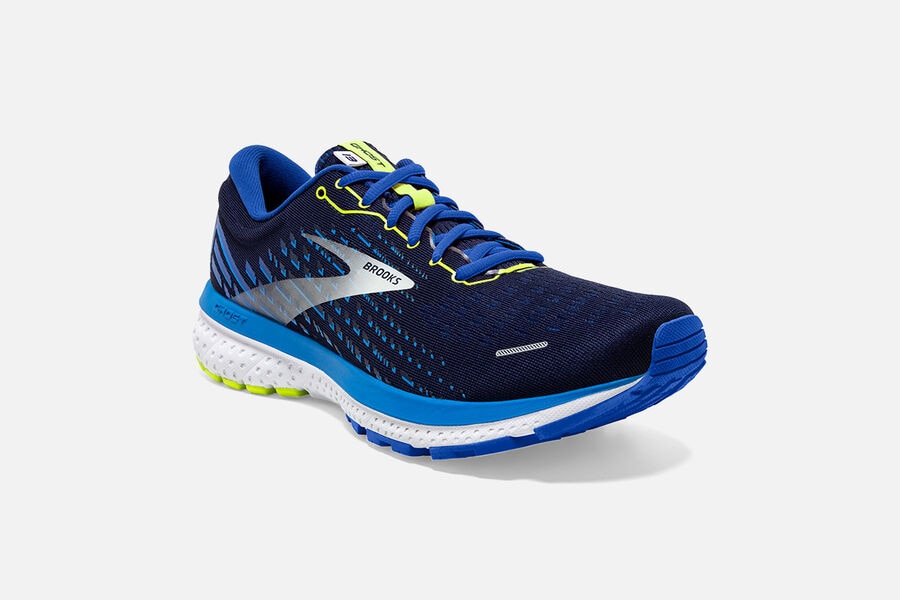 BEST FOR MEN
Brooks Ghost 14 (Men)
Soft, cushioned road running shoes ideal for dry winter conditions.
---
There's a lot of things to consider before buying your next winter running shoes. This includes certain features such as water resistance, traction, weight and even the type of running you do. It's a whole other topic and we won't get into the specifics here! There are, however, a few brands that are deemed superior when it comes to winter running shoes.
This one above is the Brooks Ghost series, our go-to road running shoes! There are 2 versions: the original Ghost 13 and the Ghost 13 GTX. Both have essentially the same features except that the latter is made from Gore-Tex making it tougher and more water resistant. You can choose one or the other depending on whether you run on wet or dry roads.
➤ Best Road Running Shoes (Snow)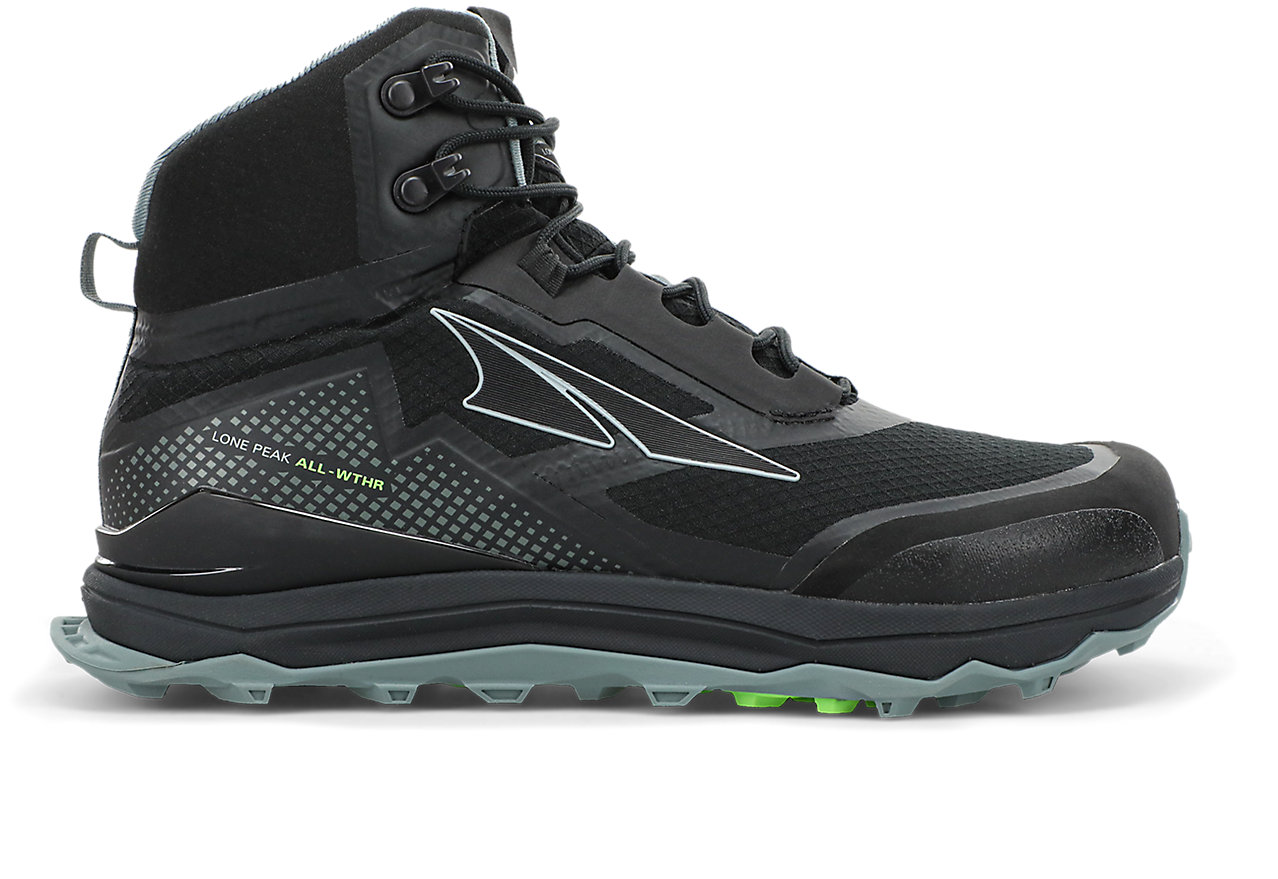 BEST FOR WOMEN
Altra Lone Peak All-Weather Mid
Weather-resistant mid-ankle length running shoes. Tough and sturdy construction perfect for snowy pavements.
---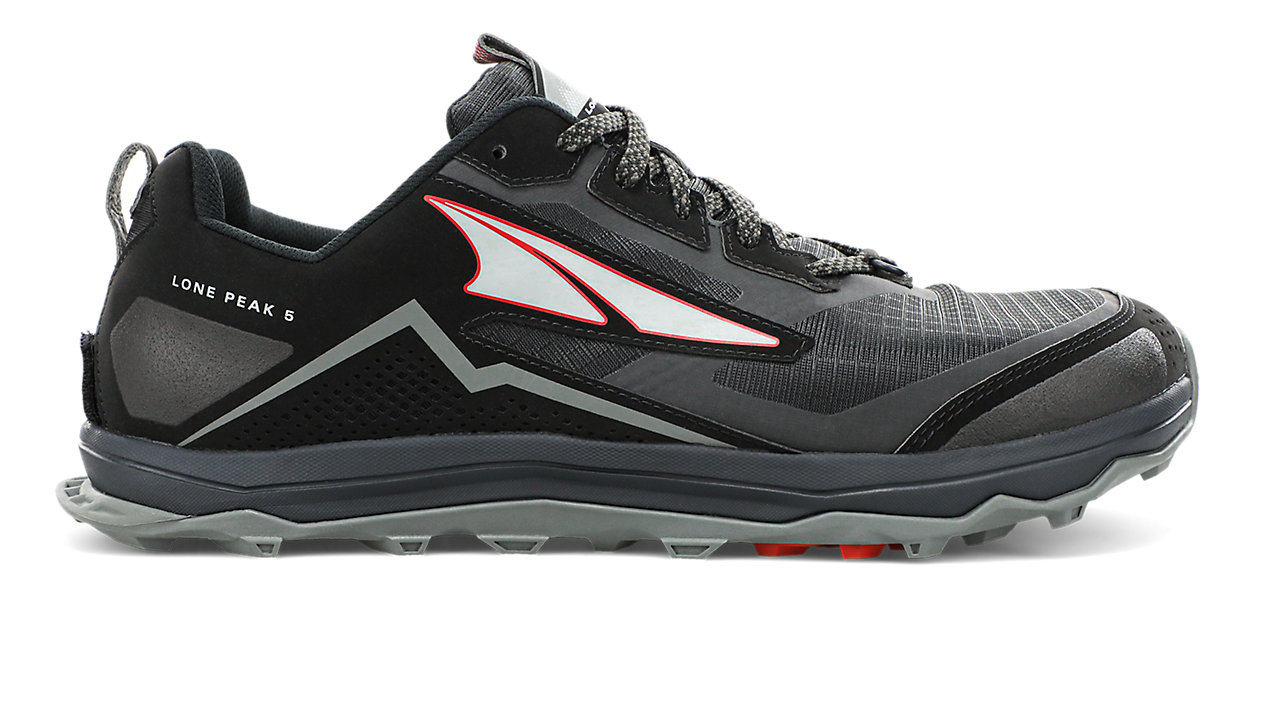 BEST FOR MEN
Altra Lone Peak 5
Strategically placed lugs for better grip on muddy and snowy roads. Great cushion and responsive design.
---
If you're mostly running on snowy pavements, you'll need shoes with deeper lugs for added grip. These Lone Peak trail runners from Altra fit the bill! You can choose either the regular ankle length or the mid-length (which offers added protection against mud, snow and all other elements). These winter running shoes are perfect for sloshing through snowy roads. The canted lugs work very well and provide added traction against slippery roads.
➤ Best Winter Trail Running Shoes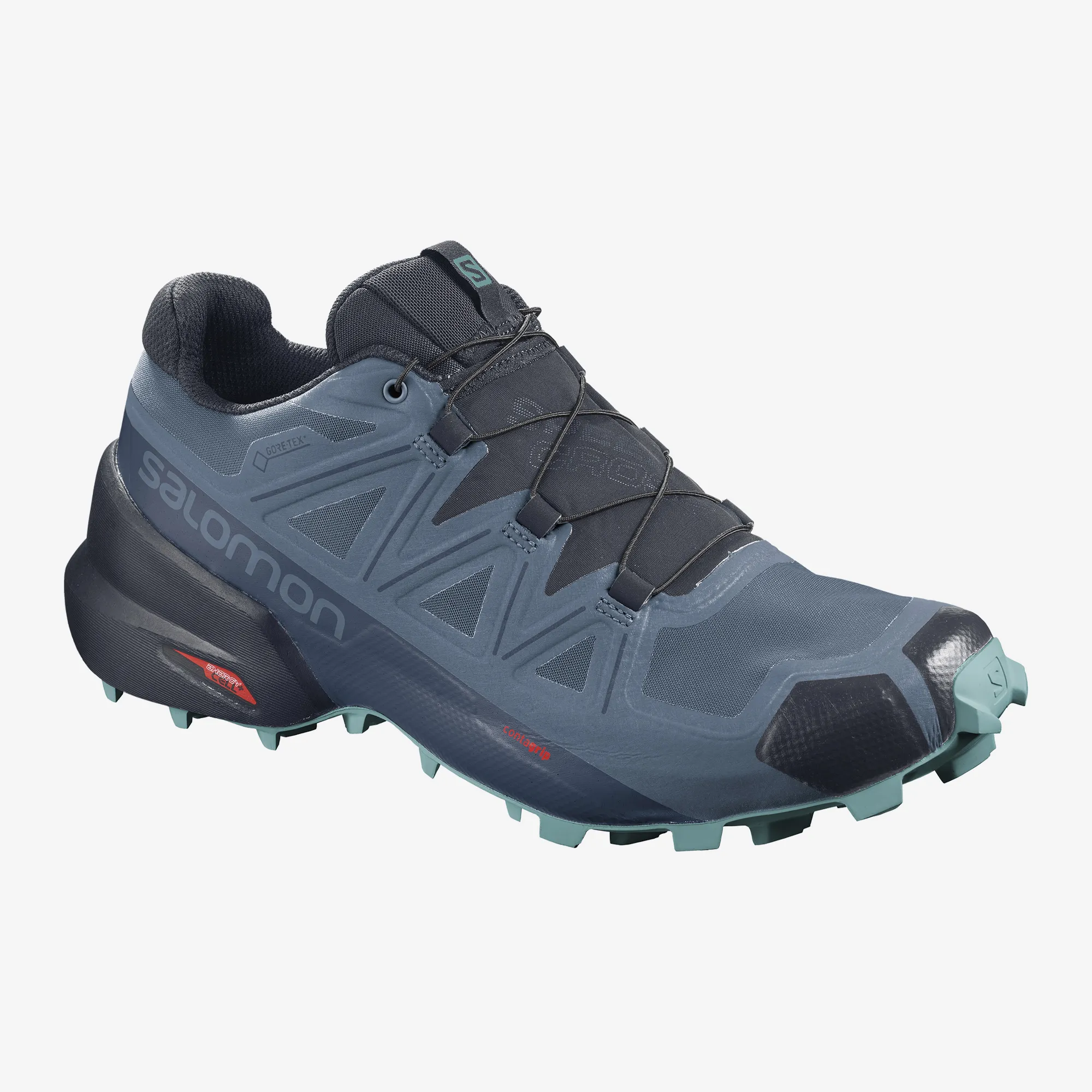 BEST FOR WOMEN
Salomon Speedcross GTX 5
Made from sturdy Gore-Tex, fully weatherproof and durable. Outstanding cushion, aggressive grip and precise fit.
---
BEST FOR MEN
Salomon Speedcross 5
Deeper lugs for conquering extreme terrains. Great for mud, snow and other kinds of trails.
---
Running through the mountains or muddy terrains? You'll need a rugged pair of trail runners that can keep up with your runs! These Speedcross trail runners from Salomon are perfect for the job. They have deeper lugs for extra grip even on uneven trails or muddy, slippery surfaces. These are also water resistant and have tighter mesh for added protection against debris. You can choose from the regular or the Gore-Tex version (which is better for moisture protection).
➤ Bonus: Winter Running Microspikes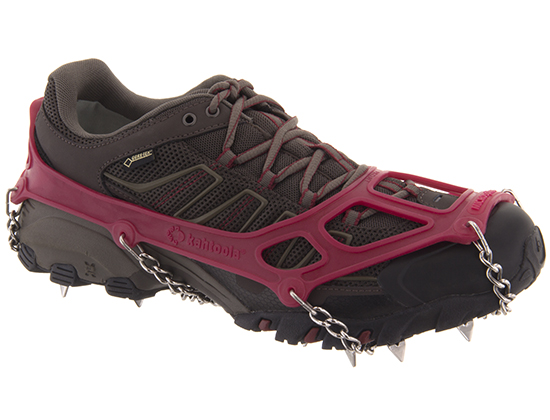 BEST FOR ICE
Kahtoola Microspikes Footwear Traction
Stainless steel spikes for added traction into icy terrains. Easy to put on over any kind of running shoes.
---
Running through icy trails? These microspikes from Kahtoola are a lifesaver. You can place them over any shoes and they will instantly add traction to prevent you from slipping. These work great for icy terrains and also for extra grip on snowy trails.
Winter Running Extras
---
These items are not essential but nonetheless still great additions to your winter running gear. Some of these items will keep you safe and seen when running during dark, winter days. Check them out below:
① Vest Backpack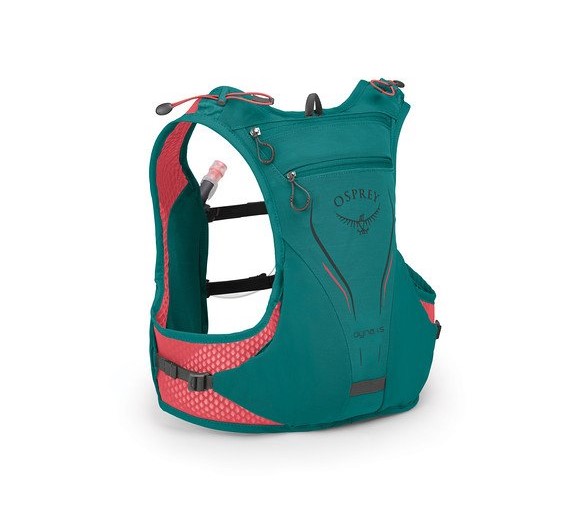 BEST FOR WOMEN
Dyna 1.5L Trail Running Backpack
Lightweight backpack vest with plenty of storage and pockets.
---
BEST FOR MEN
Duro 6 1.5L Reservoir
Rugged and durable pack for any kind of running. Fits perfectly and has ample storage for all your gear.
---
Need to take a few things off halfway through your run (outer layer, hat, gloves)? This backpack vest from Osprey will come in handy! It's lightweight, durable and most importantly, fits snugly even when you're moving around. You can fit plenty of things inside but the bag remains compact and perfect for running.
② No-Bounce Belt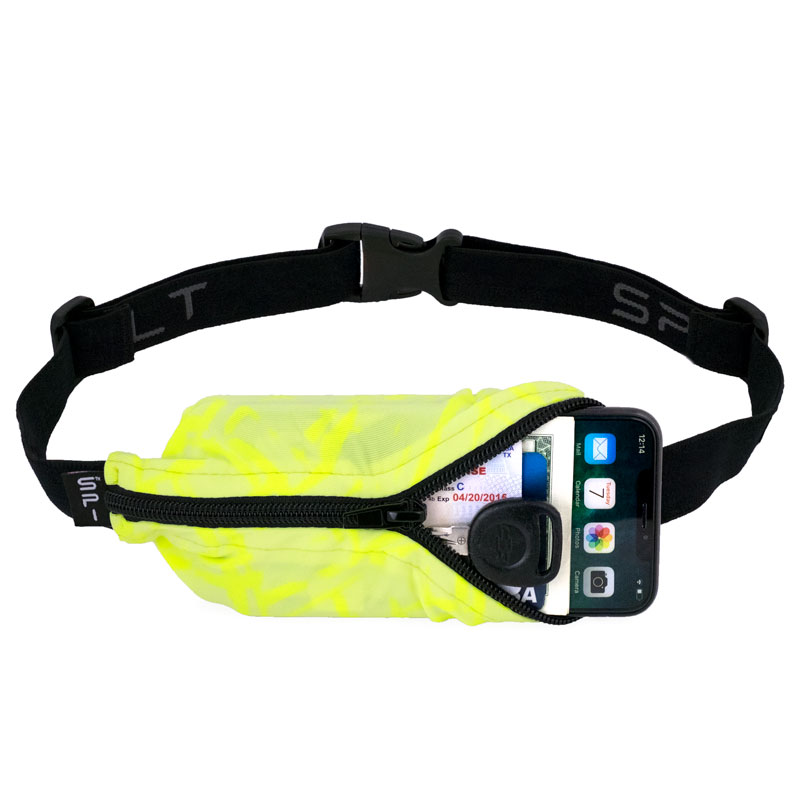 UNISEX
SPIBelt Reflective Running Belt
Sleek design and enough storage for smaller electronics.
---
This running belt is a step up from your regular fanny pack. It has a sleek (and reflective) design, is lightweight and doesn't bounce even if you're running around. The large pocket can fit your headphones, keys and even your phone.
③ Safety Headlamp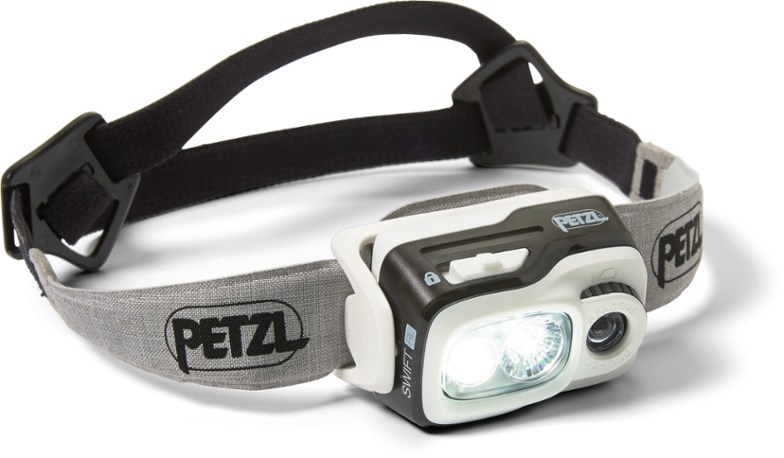 UNISEX
Petzl Swift Headlamp
Super bright light (900 lumens) with solid battery life (up to 5 hours).
---
The Petzl Swift is a lightweight and portable headlamp with up to 900 lumens. There are three modes so you can switch between the lightest to the brightest depending on your needs. The headband is very comfortable and also fully adjustable to accommodate a wide range of sizes. Must have if you're an early morning or evening runner!
④ Anti-Chafe Salve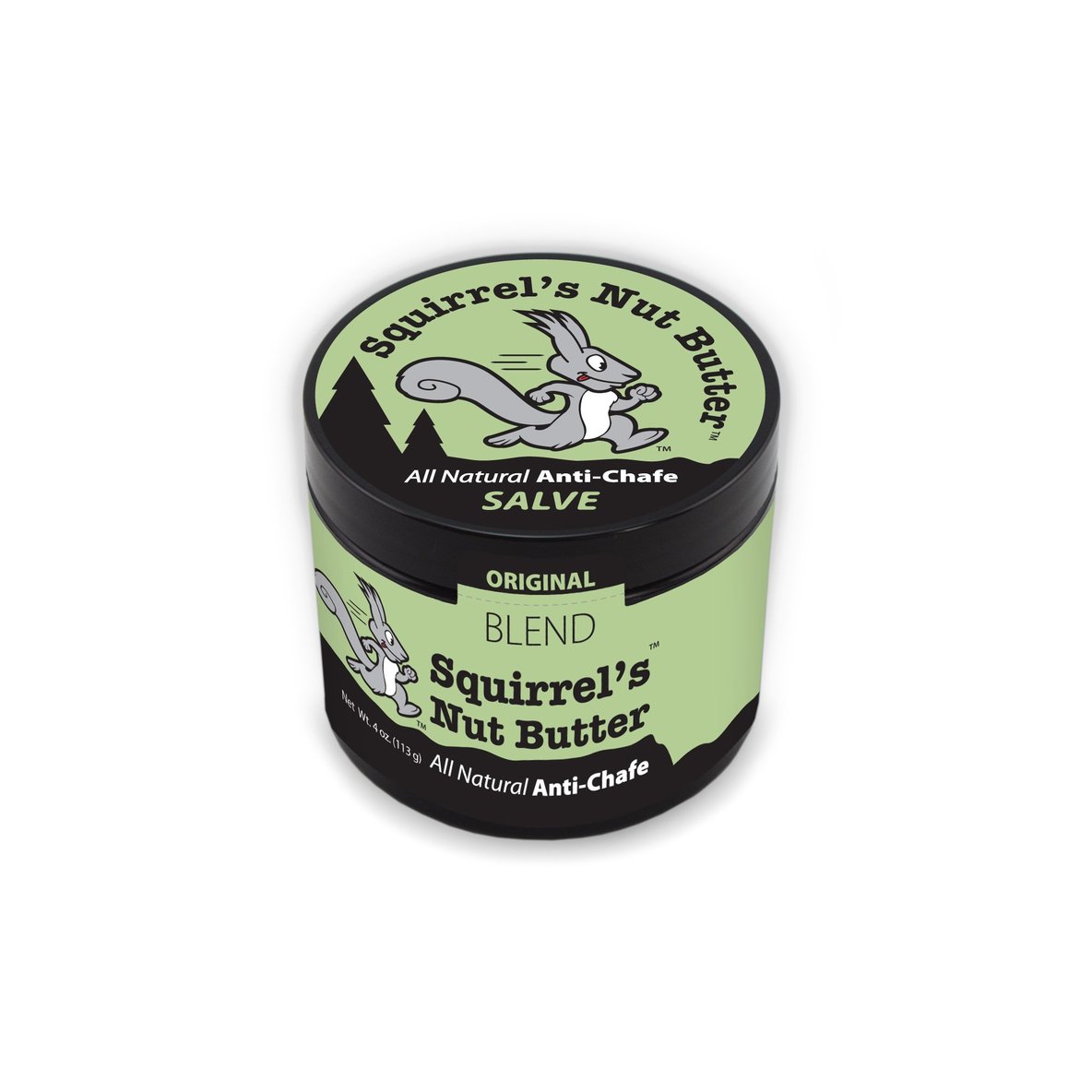 UNISEX
Squirrel's Nut Butter Anti-Chafe Tub
All-natural anti-chafing balm made from coconut oil and cocoa. Creates a barrier on the skin surface to prevent rubbing and irritation.
---
With all the extra layers you're wearing, your skin might get irritated (especially around the legs and thighs). An all-natural balm can help prevent rubbing and blisters. Just apply it on any problem areas before you run and you'll be good to go!
⑤ Safety Light Clip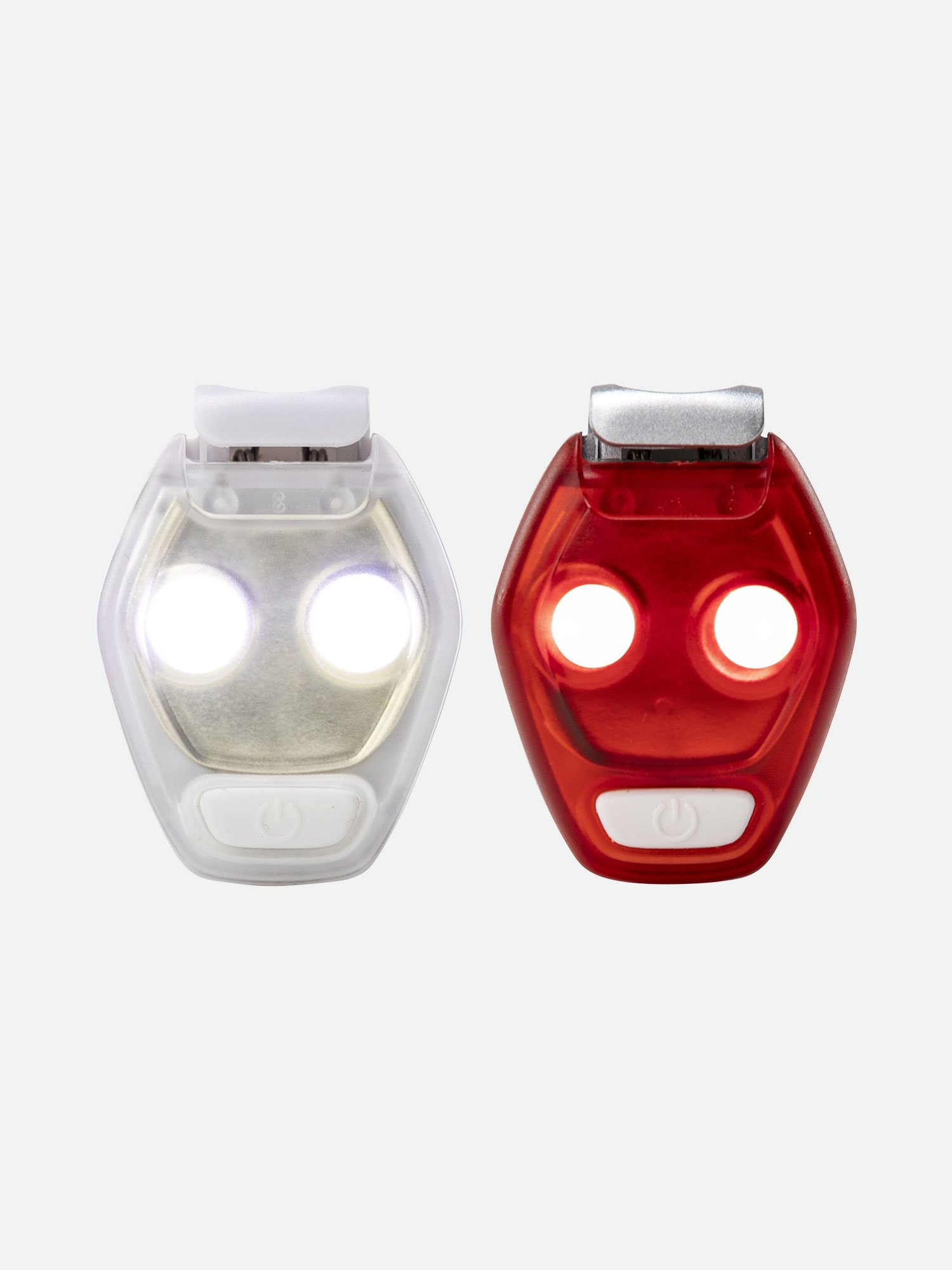 UNISEX
Hyperbrite Mini 2-Pack
Clip-on safety lights for added visibility on your runs.
---
These very compact and lightweight clip-on lights are great for added visibility during your early morning or evening runs. They're easy to attach to your clothing and come with three light settings (solid, flashing and alternate flashing).
With these essential running products, you're all set and ready to conquer the winter terrain. Remember, when it comes to cold weather running: layer, layer, layer! Even better is removable layers so you can easily shed clothing items when it gets too hot. Good luck and have fun!