Can't feel your hands while going out for a winter run? That's what happens when you're not wearing proper gloves. Choosing the right pair is very important especially when your fingers depend on it. If you like running in the cold, you need gloves that can keep up with you and protect your hands.
And look what we have here! It's a list of all the things a nice pair of warm running gloves should have. How does your current pair of gloves compare? Keep reading until the end for a mini guide on how to pick the best TrailHeads running gloves for your cold weather runs!
What to Look for in Winter Running Gloves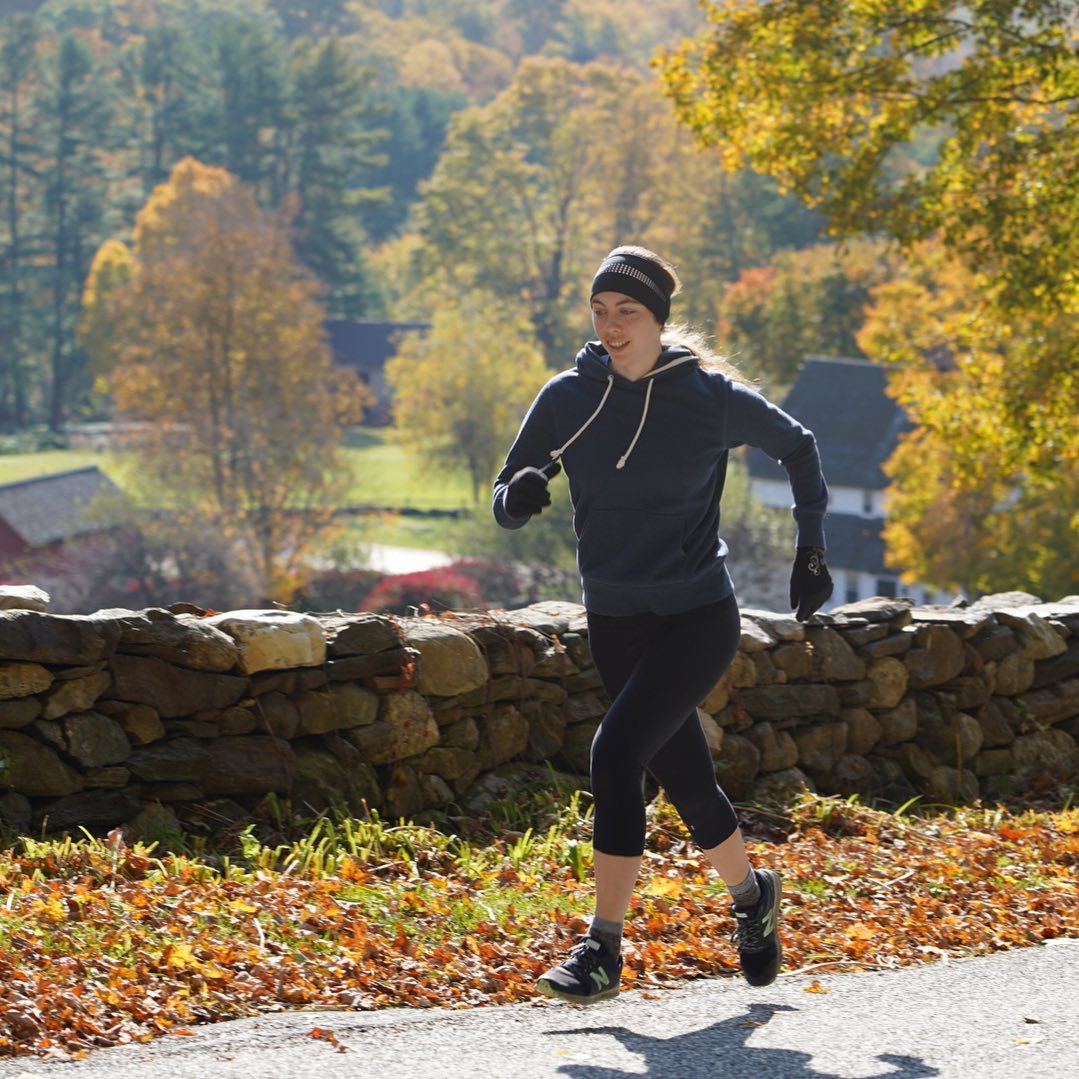 It doesn't take an expert to know which pair of winter running gloves is worth your while. All it takes is you, this list, and next thing you know, you're high-fiving the cold air on your next run. So, without further ado, here are the top sixteen things to look out for:
1. Thermal Insulation
A nice pair of winter running gloves helps keep your hands toasty warm in frigid temps. A glove's temperature rating tells you which pair is recommended to be worn in a certain climate. However, it serves only as a guideline but not a definite guarantee.
If you are a naturally cold person, or live in an area where very cold temperatures are a regular occurrence, you may also want to consider running mittens during your search for the best winter running hand wear. Mittens tend to be warmer than gloves because your fingers share body heat. They are also a great layering option over glove liners.
Keep in mind, running gloves and mittens are designed for aerobic use, so their temperature ratings are given with a moderate activity level in mind. Running gloves are typically designed to be thinner and more lightweight than ski gloves because your body temperature will increase naturally as you run, requiring less insulation. Everyone has a different level of tolerance for cold. Non-active users or those with Reynaud's may want to choose a glove rated for temperatures lower than they would normally face in their local climate. Reynaud's is a medical condition characterized by the severe restriction of one's blood vessels due to cold. It causes numbness from the poor circulation.
To give you an idea of what we're talking about, here are the different temperature ratings of cold-weather running gloves:
✔️ 40°F to 50°F (4°C to 10°C) - This is the best temp to start wearing light liner gloves but for those who are used to bitterly cold winters, it's optional. You can use it at the beginning of your run and take it off as your hands start to heat up.
✔️ 20°F to 40°F (-6°C to 4°C) - At this point, gloves are no longer optional; they're a must. Wear thin, moisture wicking light liner gloves as base layers. You can ditch them as your body gets heated up when you run. Wear them again when it gets windy or if the temperature suddenly drops.
✔️ 0°F to 20°F (-17°C to -6°C) - This is the best temp to start layering liner gloves under thicker ones. Be sure to layer properly especially if you have a low tolerance for the cold or if you have Raynaud's. If that's the case, throw in some hand warmers for extra heat.
✔️ Below 0°F - At this temperature, layers and hand warmers are key! You may want to layer mittens over your gloves as well, especially if you have Raynaud's.
2. Made with Synthetic Materials
The best running gloves are made from synthetic blends. Fabrics like polyester, acrylic, fleece, and polypropylene are the most commonly used ones. Make sure your next pair is made of these awesome breathable materials for added warmth and protection against the cold.
3. Water Resistant & Windproof
Light rain and chilly wind are no match for a pair of water-resistant and windproof gloves. Fabrics like nylon and polyester are best known for their water-repellant properties. Water will take a while to soak through these fabrics and they also dry very quickly, so you don't have to cut your run short if it starts to drizzle. Though it is important to note that water resistant is not the same as waterproof. Water resistant is often ideal for runners because the fabric remains breathable, while still offering meaningful protection from the rain.
Fleece and softshell garments are great for keeping the cold wind at bay. Put these two together and you get a pair of the best winter running gloves.
4. Moisture-Wicking Fabric
Sweaty palms plus cold wind are the perfect recipe for frostbite. But wearing a pair of gloves made of a sweat-wicking material keeps them warm, dry, and cozy at all times. We recommend lightweight nylon, polyester, and merino wool for the ultimate moisture-wicking action.
5. Brushed Fleece Lining
Soft, brushed fleece is by far the most popular lining used in winter gloves. It provides the ultimate warmth and comfort because it prevents the cold air from going inside, thus protecting your hands against frigid temperatures.
6. High Visibility Reflective Print
Going for an early morning jog or a dusk run? Be safe and be seen with a pair of reflective winter running gloves. With just the motion of your hands as you run, other people, especially drivers, can spot you more easily and avoid accidents.
7. Touchscreen-Friendly
A pair of running gloves that lets you switch songs or check routes without taking it off? Yes, please! This is an important feature to consider if you want to keep your fingers from freezing even while you access your phone.
8. Convertible
Another great feature of the ideal winter running glove is its multifunctionality. Look for running gloves that can convert to mittens. Mittens provide extra warmth and protection, but they aren't the best when it comes to dexterity. With convertible styles you get the best of both styles. A mitten cover keeps your fingers cozy, and folds back to running gloves when desired. This allows you to adjust the warmth of your hands as you run and allows you to use your phone or hold your keys more easily when needed.
9. Magnetic Clasps
A useful, special feature found in some winter running gloves is a set of tiny, powerful hidden magnetic clasps that connect the pair together when not worn. This prevents you from losing a running glove when it's not in use.
10. Lightweight and Breathable
Thick doesn't always equate to warmth and comfort when it comes to winter running gloves. Thick gloves are heavy and they can cause your hands to overheat during a run. Your body temperature will rise naturally from exercise, so you need less insulation to stay comfortable. Running gloves should provide you with a layer of protection, or some light insulation, that still allows your hands to breath and move easily. They are meant to be lightweight in comparison to other winter hand wear. It's best to make sure it's thick enough to warm your hands yet breathable enough to maintain dexterity. And most importantly, lightweight for a lighter run.
11. Perfect Fit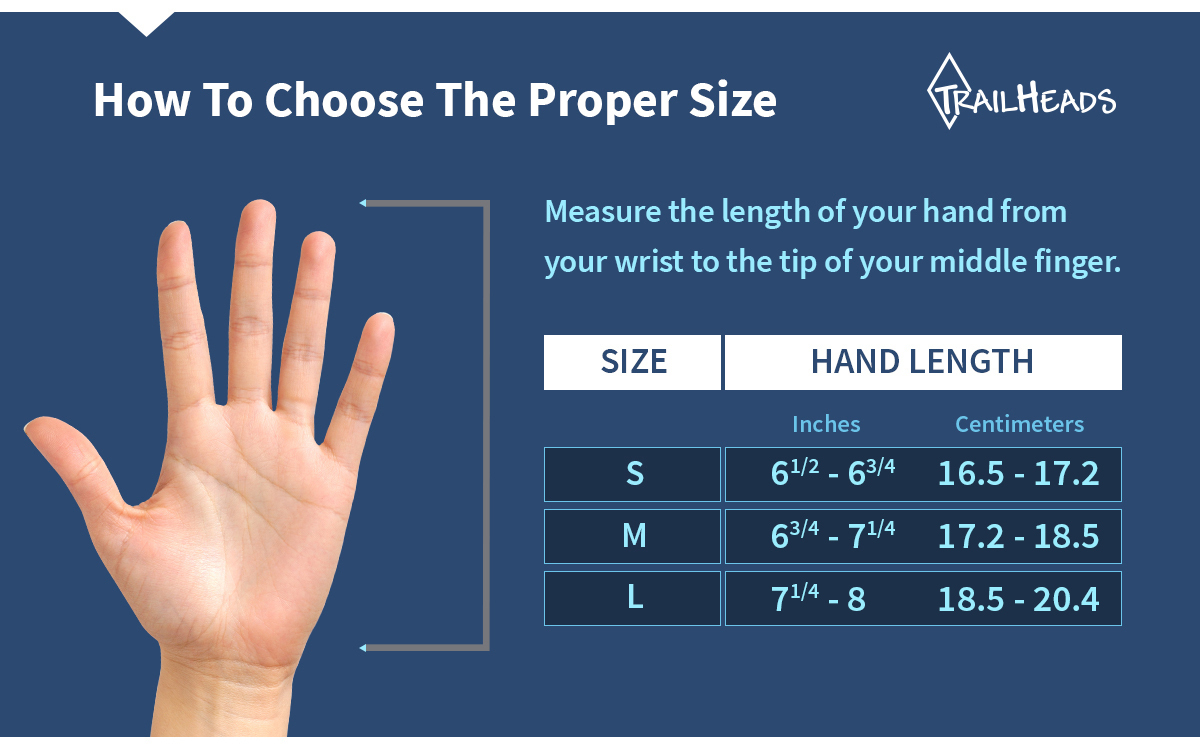 Chart Size for Women's Running Gloves Chart Size for Men's Running Gloves
Comfort is dependent on your winter running gloves' fit. If they're too big, they can't keep your hands warm enough. Too small and they can impact your circulation. When shopping TrailHeads gloves, we recommend measuring the size of your hand to get the perfect fit. You can do it by measuring your hand length from your wrist to the tip of your middle finger. You can refer to our women's and men's size charts to find your glove size. If you are between sizes, we typically suggest sizing down. A snug fit improves warmth and touchscreen capability, and many running gloves are made with stretchy materials that allow them to comfortably fit a wide range of hand sizes.
12. 4-Way Stretch
A feature you want to prioritize is fabric that will stretch and conform to the shape of your hand, providing the dexterity you need to move your fingers around, access items in your pockets or use your phone without taking off your running gloves. Stretch fabric will make your winter run more convenient..
13. Anti-slip Design
A pair of anti-slip cold weather running gloves makes it easier to hold onto things as you run. Look for winter running gloves that have anti-slip silicone patches on the palms and fingertips. This helps increase the friction and abrasion resistance for a firmer grip on your phone, water bottle, and such.
14. Extended Cuffs
Another important feature in a pair of cold weather running gloves is a proper cuff that can be tucked into a jacket sleeve. This helps lock in warmth and keep the cold air out for a cozy run. This also makes it more comfortable to put on and take the gloves off your hands. .
15. Sustainable Materials
Lower your impact by shopping for running gloves made of sustainable materials, such as recycled or plant based fabrics. There are options for insulation made of post consumer content and other innovations being made in the sports clothing & accessories field.
16. Overall Look
Make sure your winter running gloves resonate with your overall look. It's not really the most important of all features but looking good can make you feel good when running.
Flexing our Brand: TrailHeads Best Winter Running Gloves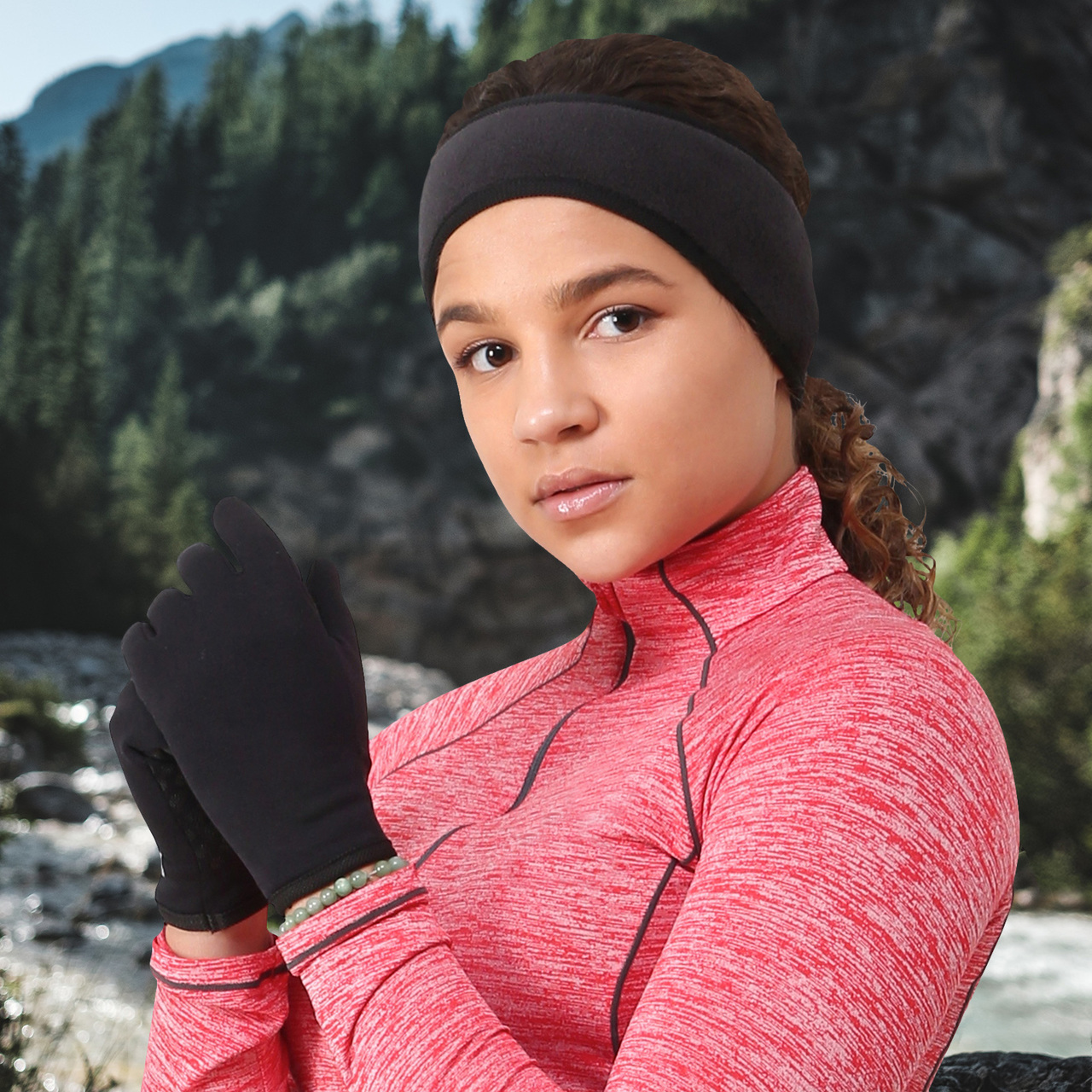 As promised, here's a list of the best pairs of winter running gloves and mittens from TrailHeads. Be sure to take note of the glove's suggested temperature rating so you'll know when to use each pair:
1. TrailHeads Power Stretch Gloves for Men and Women


This pair of power stretch gloves truly lives up to its name. Made with 31% nylon, 52% polyester, and 17% lycra, they are 100% comfortable, stretchable, and durable. To break that down, its outer layer is designed to protect against wind and cold weather. Its inner layer, on the other hand, is thermal and quick-drying so it keeps the moisture out and your hands warm and dry.
Impressed? Wait till you see its anti-slip silicone and touch-screen fabric grippers! It lets you hold things better and access gadgets, like your phone, more efficiently. The men's glove is designed with a handy workout wipe to dry sweat and snot. The women's glove has three styles that you can choose from - black, pink trim, or stylish metallic swirl. Take your pick!
Temperature Rating: Best for 20°+ weather
---
2. Men's and Women's Touchscreen Running Gloves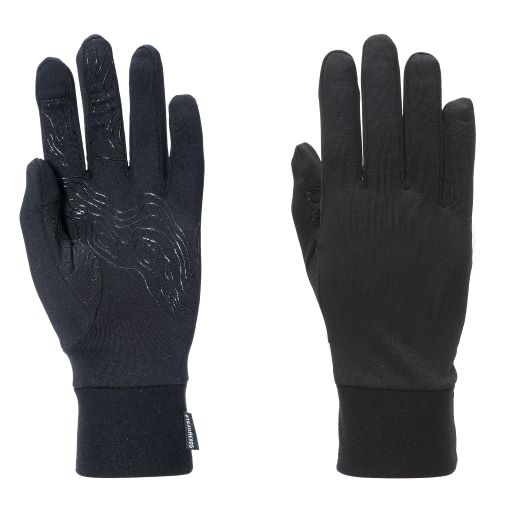 If you're looking for that classic black winter running gloves, this is it. This pair of gloves gives you the moisture-wicking, warmth-giving, stretchy goodness of nylon, polyester, and spandex fabrics. That simply means it protects your hands from the frigid cold especially during long runs.
Thanks to its touch screen compatible and 4-way stretch fabric, you'll be able to use your phone with ease. Its double-layer stretch cuffs ensure it fits perfectly and stays on so you'll have dry and warm hands all run long.
Temperature Rating: Best for 30°+ weather
---
3. Convertible Running Gloves for Men and Women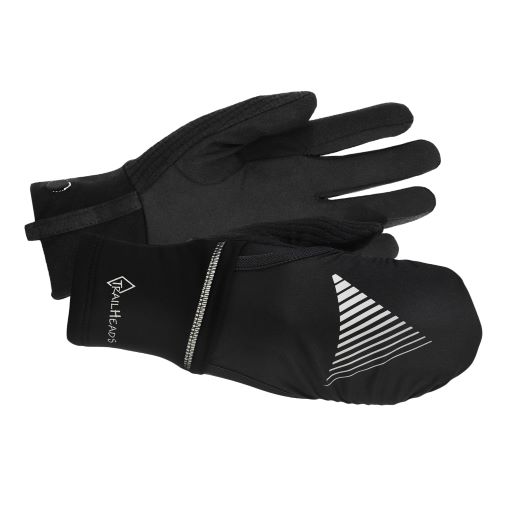 Those looking for gloves to combat a variety of weather conditions will enjoy our Convertible Running Gloves. These versatile gloves are made of the same lightweight fabric as our Touchscreen Running Gloves, but with the added benefit of a waterproof mitten shell that can be pulled over your fingers for extra warmth and to protect your hands from drizzly, rainy conditions. The mitten shell tucks into a pocket on the back of the hand to keep it secure while not in use. The thumb is made from grid fleece to serve as a brow wipe.
These gloves are touchscreen compatible on the thumb and forefinger. Available in hi vis or black, both colors have reflective accents so you can be safe and be seen on the roads.
Temperature Rating: Best for 25°+ weather
---
4. Convertible Mittens for Men and Women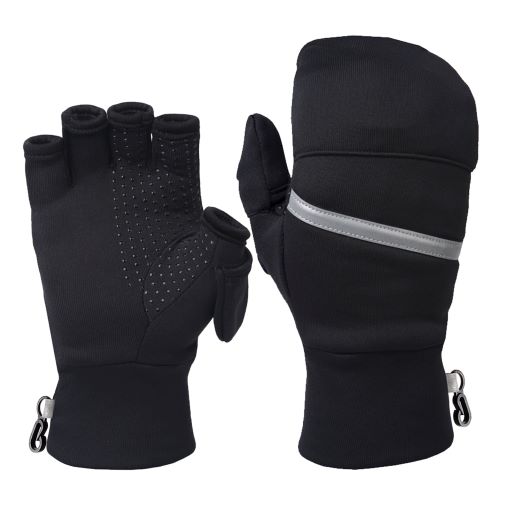 Our Convertible Mittens are a feature filled style that provides users with excellent versatility. Worn as mittens, they provide extra warmth. Worn as fingerless gloves, they make it easy to use your phone, grab your keys and more. The mitten top flips back and can be stowed in a pocket on the back of the hand. The thumb has its own flap that is held in place by a magnet, so you can maximize use of your fingers.
Double layer fabric protects your hands from wind and there is a reflective accent on the back of the hand to help you stay safe and seen on the roads.
Beloved by runners, dog walkers, and photographers, this convertible mitten helps you make the most of your time outside.
Temperature Rating: Best for 20°+ weather
---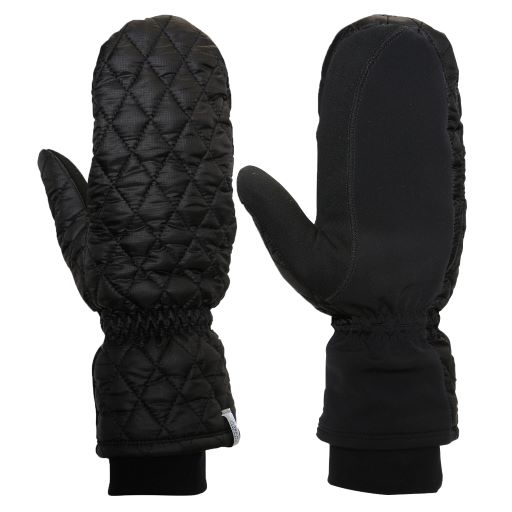 Do running gloves not keep you warm enough? You may need to upgrade to mittens. These comfy, quilted mittens have lightweight, Polartec Powerfill Insulation across the back of the hand. The classic, diamond quilted pattern, not only looks great, but holds the insulation in place for an even warmth. And bonus, the insulation is 80% recycled!
The palm has double layer fabric and has a strip of touchscreen compatible fabric to make it easy to use your devices without removing your cozy mittens.
Temperature Rating: Best for 15°+ weather
---
6. Zip Mitts for Men and Women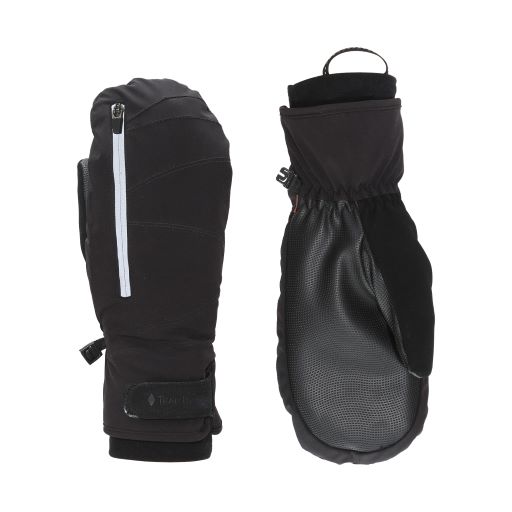 Our warmest hand wear option to date, these winter running mittens will keep you cozy. They offer Primaloft insulation. An extended cuff will tuck into your running jacket and lock in warmth.
An exciting feature of these mittens is that they zip open along the back of the hand. This allows you to pull your hand out to access your phone, your keys, or anything else you may need without taking the mitts all the way off. It also allows you to vent your hands as you get warm on your long run.
The Zipper has a reflective accent to help you be seen, and both the shell and insulation incorporate recycled materials.
For those who get cold easily and have trouble staying warm on the run, these are the work out mittens for you.
Temperature Rating: Best for 10°+ weather
---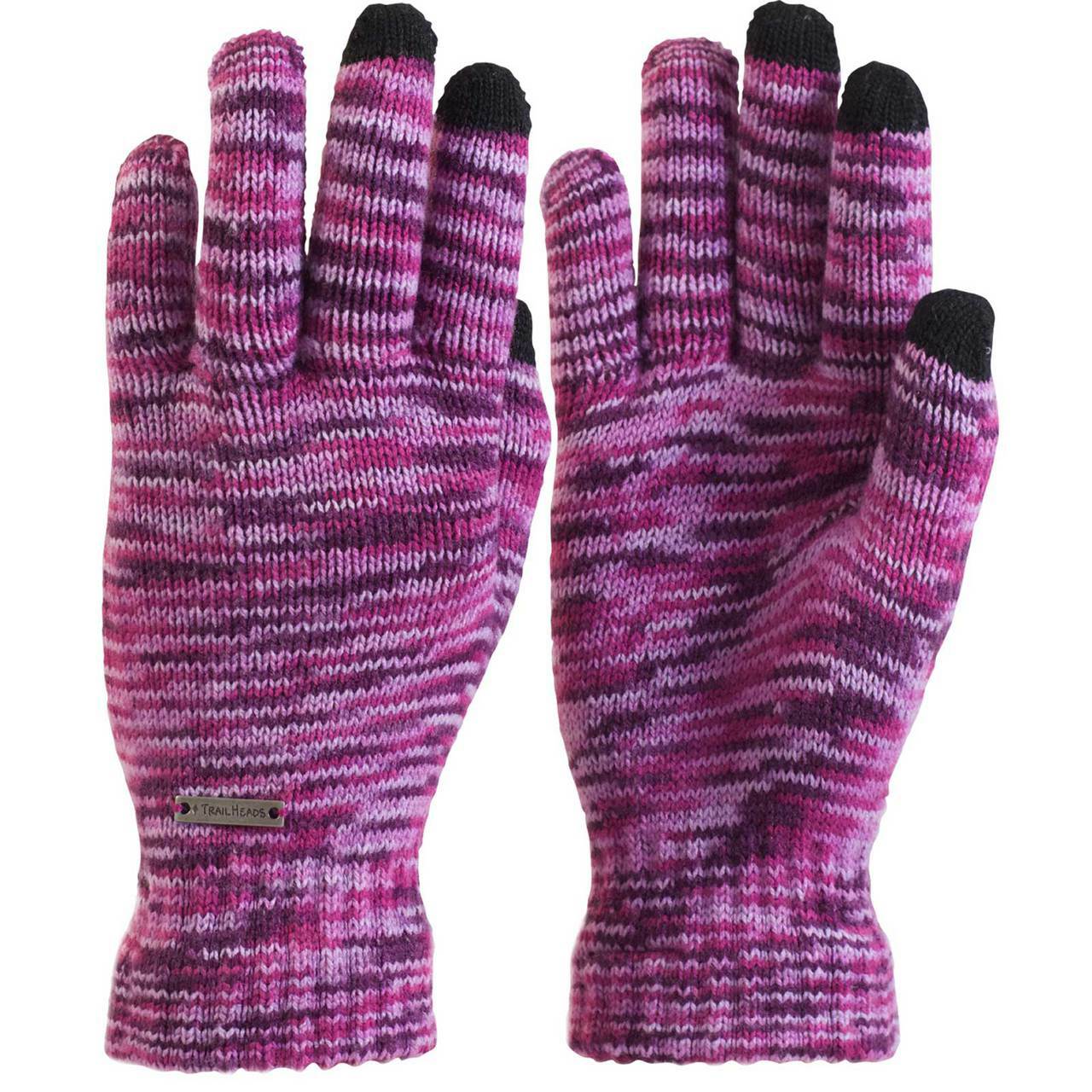 These knit gloves are pretty neat, aren't they? Why wouldn't they be when they're made of soft knitted acrylic yarn and ribbed knit spandex blend on the cuffs. That means they stretch to fit a wide range of ladies' hand sizes. So no worries if you don't know your hand size, they're one size fits most!
Another great thing about this pair of knit gloves is that it's touchscreen-friendly so you can use your mobile devices without taking them off. Aside from this cool light purple color, it's also available in black & white. It's the most fashionable and comfortable way to run in the cold.
Temperature Rating: Best for 35°+ weather
---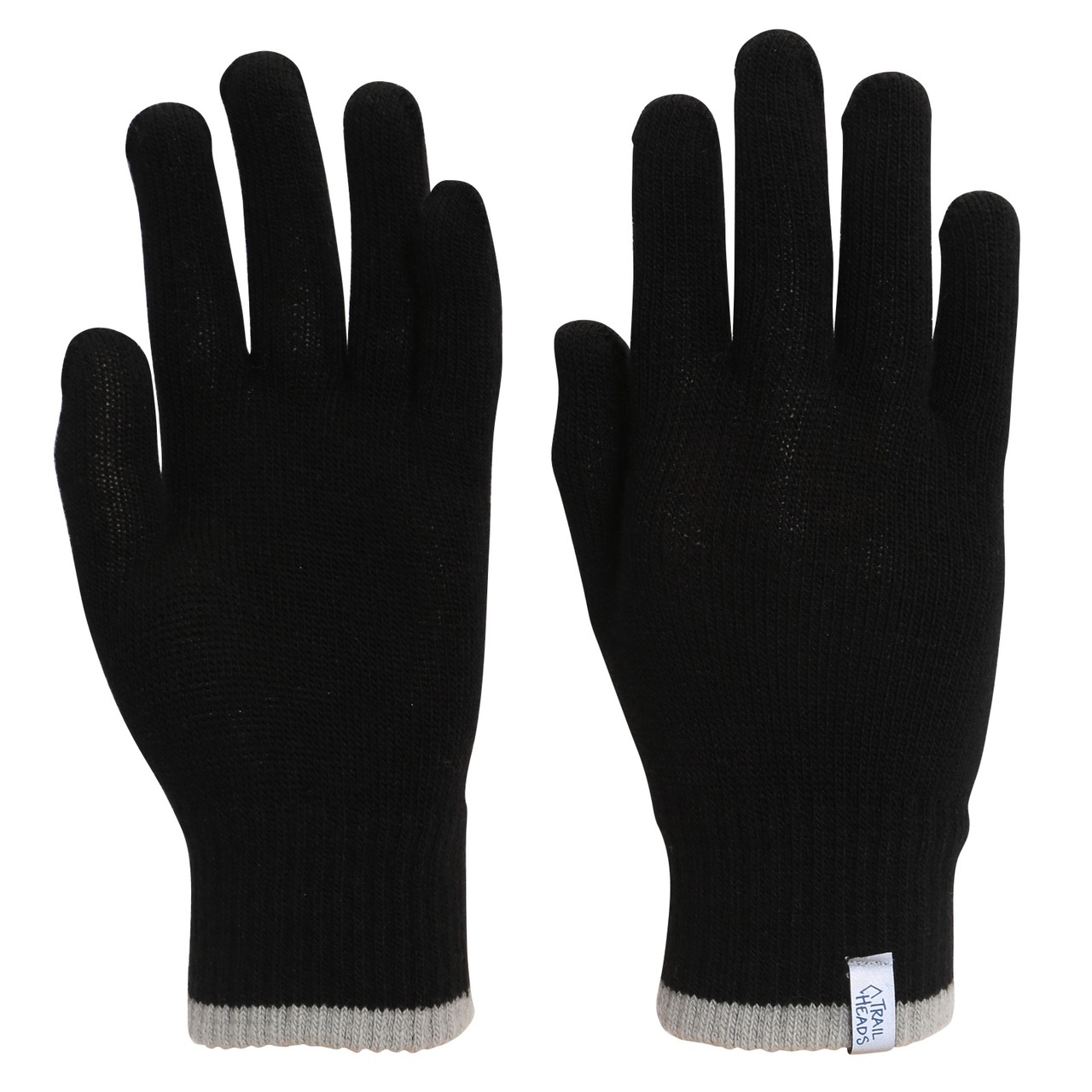 It's nice to have these warm and comfy winter running gloves when it's not extremely cold outside for a run. This pair of black glove liners is perfect for a 35° run. It's made of acrylic knit so it keeps your hands warm and comfy. Plus, it prevents cold wind from entering around the wrist with its extended rib knit cuffs.
You can use this classic pair on its own when it's not too cold, or as a base layer if the temp drops. They're super soft and lightweight so you can easily keep them in your pockets if you don't feel like wearing them.
Temperature Rating: Best for 35°+ weather
---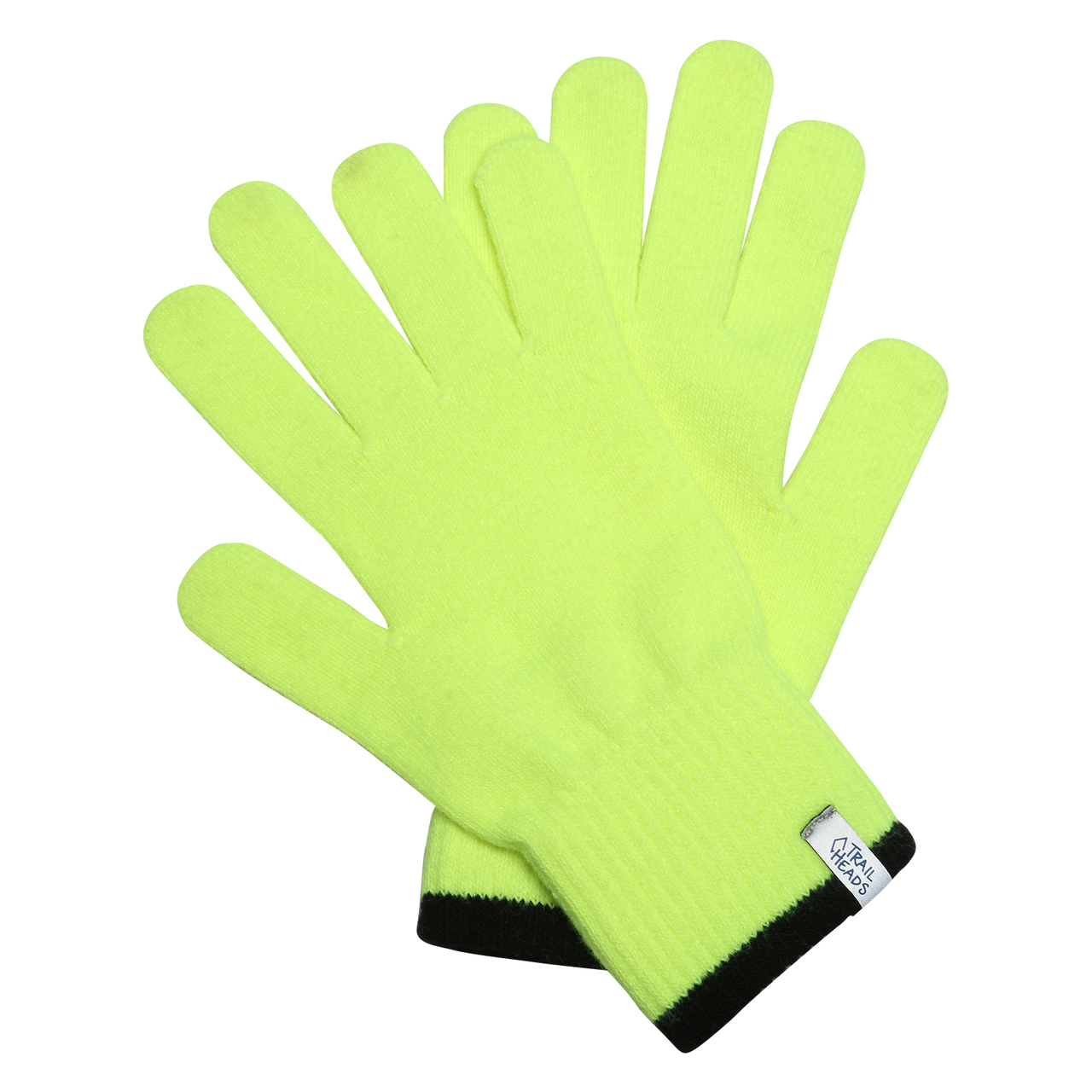 Running until dark is not an issue when you have Hi Vis winter gloves on. Aside from keeping the chill from your fingers, the color helps with visibility during pre-dawn hours. They're perfectly soft and good for your blood circulation because they don't compress your fingers.
They're made of neon acrylic knit fabric and are perfect to use on their own or as a base layer. They're soft and cozy when worn so you don't have to worry about freezing your fingers off when you run early in the morning or at night.
Temperature Rating: Best for 35°+ weather
There you have it! Combine all those features together and you'll get the best winter running gloves ever. Be sure to check out our favorite pairs in the recommendation section; they've got all the features checked!
Remember, each person has a different tolerance to cold weather. But if you live in a cold climate, you're going to need different pairs of gloves for various temperatures. Make sure to secure a pair for a 30° weather run, a 10° day jog, and when the temperature drops to its lowest.