Here's everything you need to know to start trail running, today.
Trail running is the perfect combination of hiking and running. It can offer a meditative respite from a busy life or a foot-powered adventure offering challenges and thrills. There are many reasons trail running is worth giving a try.
If you love hiking but want to move faster and challenge yourself, try trail running. If you love running roads but find pavement hard on your body, trail running can be gentler on the joints. If you're looking for a new activity to get outdoors and enjoy nature, trail running checks all the boxes. So, you might wonder, "How do I start trail running?"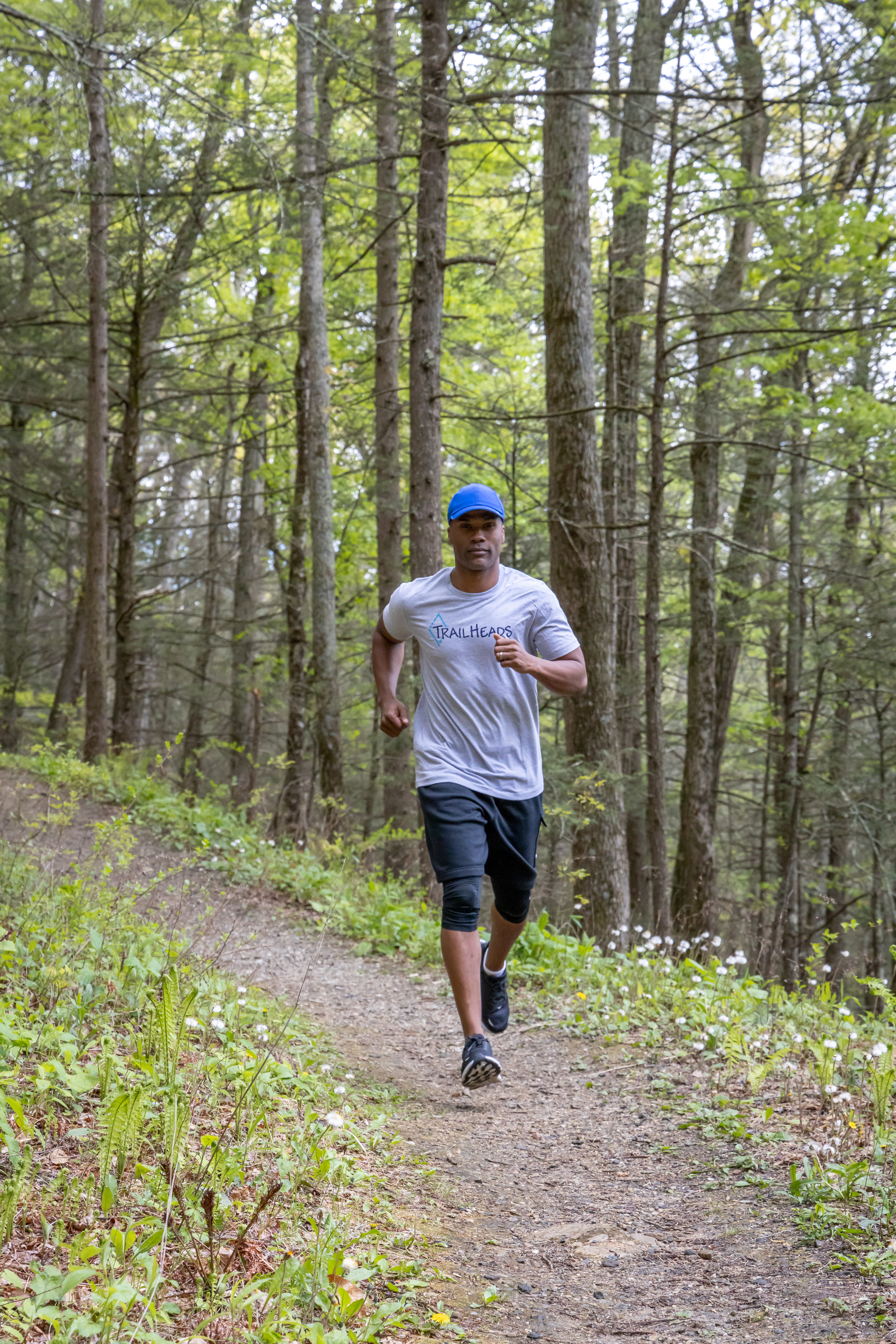 Pick a trail to run
While it may be tempting to start on a trail with epic views, remember that trail running is going to feel different from hiking and running. After all, running on soft or gravel surfaces will feel less stable when you're moving faster, and small obstacles like rocks and roots will challenge your body and balance in new ways.
Whether you're an experienced hiker or runner, or you've never done either before but trail running piques your interest, we recommend starting with a rail trail or unpaved greenway path near home that doesn't have a ton of vertical gain and isn't super challenging. As you acclimate to these trails, then you can explore new and different trails with challenging elements. Here's how you can find places to trail run.
Local parks
Many local parks right in your city or town, including greenways, may have adjacent dirt or gravel trails or a shoulder along a paved trail that you can run on. You might also check out nearby nature preserves, state parks or even national preserves or historical parks for trails.
Trail apps
Websites like The Trail Project, AllTrails and Gaia GPS are a way to find trails at home and then take the trail maps out with you on a mobile device.
Run clubs and races
Running clubs are a great way to discover trails without having to do a ton of research. Clubs are often attached to running stores and breweries or can be found on social sites such as Facebook or Meetup. If you're not sure about a group run, you can always reach out to the organizer to see if anyone will be hanging with the back of the pack, or ask if they'd be willing to share their maps so you can explore on your own.
Local trail races often have the route posted on the event website, so you can check out the route on your own.
Gear up for trail running
Trail running requires more than just a pair of shoes, and even those shoes should be specific to trail running thanks to the uneven terrain you'll be tackling. We've created an in-depth guide for what trail runners wear in each season, but here are a few basics to get you started.
Trail-running shoes
Trail runners are designed to offer traction and protection on iffy terrain. Think about the types of trails you'll be running. Are you mostly running on dry dirt and gravel, or will there be mud or water crossings requiring waterproof shoes? Do you plan to run on big gravel and rocks that necessitate extra protection for your toes and soles? What about running up or downhill on rock faces requiring some extra grip?
It may be tempting to ask your trail-running friends what kind of shoes they wear, but it's always best to head to your local run-specialty store to get fitted for a pair of trail-running shoes. They'll be able to suggest a shoe for the terrain you're running on and will properly size your feet for the perfect fit.
Apparel
Lightweight, moisture-wicking fabrics with four-way stretch that won't restrict movement are ideal for trail running. Merino wool is an excellent, natural alternative to spandex with the added benefit of natural, antimicrobial properties to help with odor management. Avoid cotton! Cotton soaks up moisture, gets heavy and can chafe your skin.
Some of our favorite apparel brands for trail running include Roka, who also makes great sunglasses for running, and Mudgear for apparel and socks.
Accessories
You might find yourself running under tree cover, but that doesn't mean you don't need sun protection. Our UV protection running hats for men and women are perfect for shading your eyes and preventing the sun's harmful rays from penetrating through the hat. Or, when you have a head full of hair and require a little extra breathability, the men's and women's sun visor hat from our Traverse Series is just the ticket.
Adding a multi-functional gaiter is handy on the trails, too. Wear it as a headband to keep flyaways at bay, over your mouth to prevent dust and bugs from getting in or wrapped around your wrist as a sweatband.
Hydration and nutrition
Staying hydrated is just as important for trail running as it is for hiking and road running. We recommend a handheld water bottle with a storage pocket or hydration vest for more carrying capacity to bring all the water, electrolytes and snacks. We love LMNT for hydration and Endurance Tap and 2Betties for portable nutrition on the trail.
Let go of expectations
Trail running can feel difficult when starting out. Don't forget, everyone has to start somewhere, and no one started trail running like an elite athlete! As you hit the trails more, the efforts will start to feel easier. Here are our most important trail running tips for letting go of expectations and enjoying the experience.
Pace
If you're used to running fast on roads, just know that your paces could be different starting out as a trail runner as you navigate new terrain. Or, as a hiker, you might have excellent speed, but picking up the pace on a trail run feels harder on your heart and lungs. This is normal! Give yourself the gift of letting go of pace expectations and just enjoy the run.
Distance
No one says you have to be able to run 10 miles on trails right away. Just like road running and hiking, you'll have to work up to higher mileage. Trail running uses your muscles and tendons differently, and those need training. A good trail run can be just two miles when you're starting out.
Effort
Our number-one tip for trail running is to incorporate walking. Walking is a popular trail running technique to maintain energy levels and heart rate and prioritize efforts. Believe it or not, even experienced and professional trail runners do this! Many experienced trail runners hike the uphills and run the flats and downhills.
Form
As you tackle new terrain, you might feel unbalanced. This is also super normal. You might see trail runners pass you on the trails looking like they're effortlessly gliding over roots and rocks, whereas you might have your arms out for balance looking like you're ready to take flight. Neither way is wrong. A great way to improve your trail running is to incorporate mobility and strength training between running days.
Trail-running etiquette
Similarly to hiking, trail runners must observe right-of-way and other trail etiquette. Hikers, trail runners and mountain bikers coming down a trail must yield to people headed up the trail. This doesn't always happen, so try not to get too frustrated when you're the one running up the trail and no one is yielding to you. If anything, it's a chance to take a breather! Also, stay on the trail to avoid trampling wildlife, and always practice Leave No Trace principles.
Whether you're new to trails and running, or you're looking to expand on experience you already have, trail running is a great way to get exercise and explore new places.
Check out our blog for more tips to help you take the trail less traveled.