The key to comfort for trail running is dressing in smart layers.
Figuring out trail running gear can feel daunting, regardless of your experience level, but fear not. If you like road running and hiking, most apparel and gear used for those activities can be repurposed for trail running. If you're starting a trail running wardrobe from scratch, selecting high-quality items that can transition through seasons is key.
Naturally, the right footwear will go a long way in comfort and performance. Investing in a pair of trail running shoes will help prevent slipping on uneven terrain. Your trail running clothes should include moisture-wicking materials, such as synthetic fabrics or Merino wool. Dressing in layers will help, especially on longer runs where the conditions can change in an instant. Having apparel with pockets—or a hydration vest—to stash layers, water and snacks will make your adventure much more enjoyable.
Differing temperatures and conditions across seasons will affect how you gear up for a run. This guide includes the best trail running gear and our handpicked list of must-have running accessories for every season to make trail running fun and comfortable year-round.
Layering up for winter trail running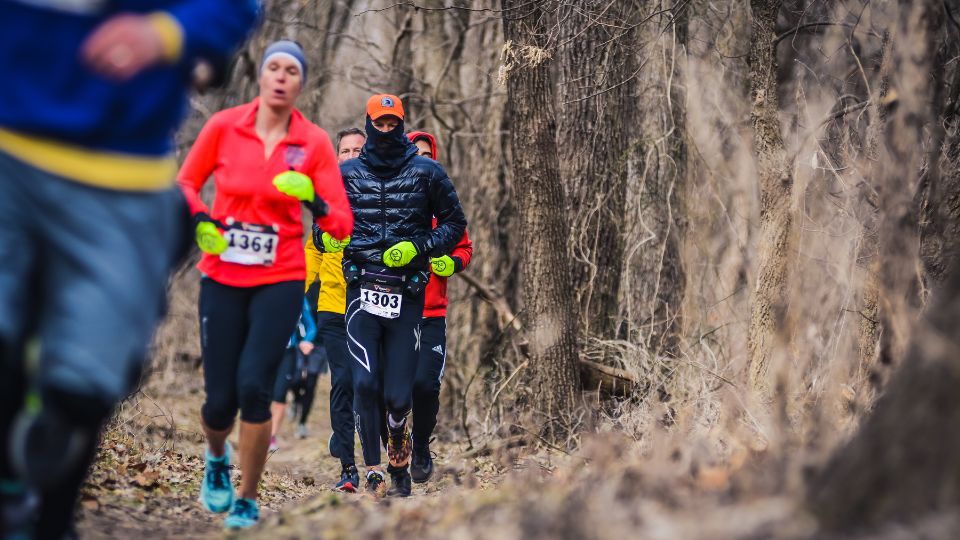 Trail running doesn't have to stop just because temperatures are frosty and snow is on the ground. In fact, breaking trail through fresh snow can be quite fun! The perfect winter trail running kit includes a moisture-wicking base layer, an insulating layer and a wind/rain layer.
Remember, cotton kills because it tends to hold moisture close to the body, which can cause your core temperature to drop. High-performance synthetic materials, lightweight fleece and Merino wool are popular fabrics for winter running. Synthetic down is an excellent insulating material because it can get wet and still do its job to keep you warm. Avoid animal downs. They don't perform well when they get wet. A wind- and water-resistant layer will add protection on windy and snowy days.
Top your outfit off with a cozy hat and a pair of gloves. We recommend the Merino Wool Ponytail Hat for Women because Merino wool insulates and keeps body parts warm when it's wet. Our Trailblazer Hat is the perfect running hat for men. It features reflective details for added visibility in the dark. The best part? The built-in fleece ear band easily folds up when you don't need it and flips down when the wind kicks up and your ears need extra protection.
To keep hands toasty warm, we recommend the Convertible Zip Mitts for men and women. They're stuffed with Primaloft insulation to trap in warmth and feature a zippered access to free your fingers or get some fresh air circulating without taking the gloves off.
Hot tip: Many runners dress for 10-20 degrees different than outside temps to account for the body heat generated while running. So, on a 30-degree day, dressing as if it's 40-50 degrees will ensure you're not overdressed, helping prevent overheating and too much sweating. It does make for a somewhat chilly start, but a proper, pre-run warmup can help.
Spring showers and smart trail-running layers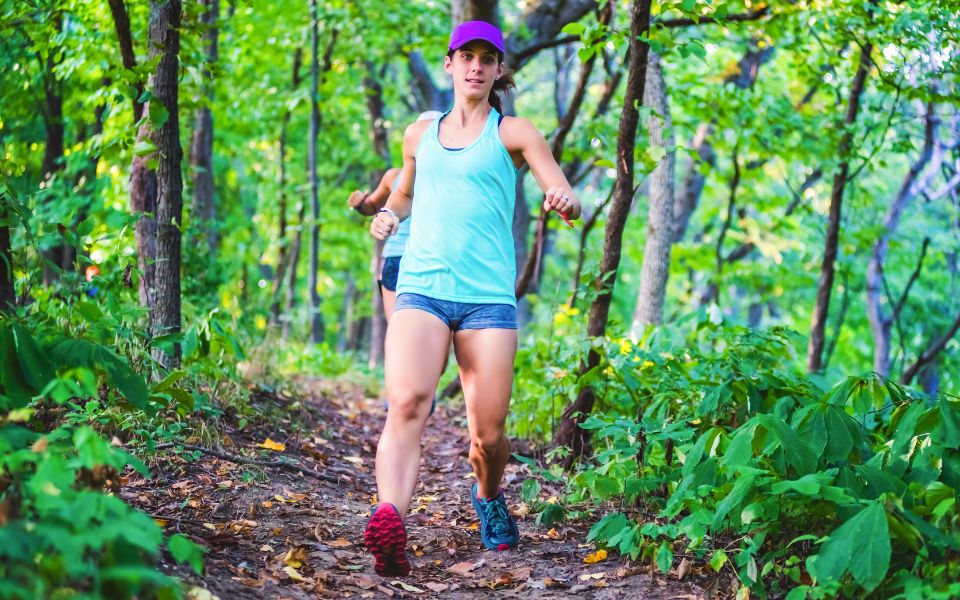 Chilly temps remain in early spring, so hanging onto those insulated layers is a great idea. As the season transitions towards summer, running in the rain becomes a solid possibility. A packable, water-resistant jacket will be helpful to prevent getting soaked on your trail run.
Hot tip: It's best to avoid fully waterproof fabrics with sealed seams. Because they're designed to keep water out, they are also pretty good at trapping sweat on the inside. If you're going to get soaked with sweat inside your jacket while it rains outside, why bother, right?
A lightweight, brimmed hat like the Race Day Men's Running Hat and Race Day Women's Running Hat will help keep the rain out of your eyes, and a thin pair of gloves will help keep hands warm when temps and conditions are on the raw side earlier in the season.
Your base layers and socks can stay the same in spring conditions, but get ready for mud! Unless trails are closed for mud season, it's always best to run right through it instead of going around. Avoiding mud causes erosion that widens the trail and sometimes results in "social trails," and both damage fragile ecosystems. So, embrace your inner child and play in the puddles unless otherwise directed by your local parks department.
Trail running in summer sun and heat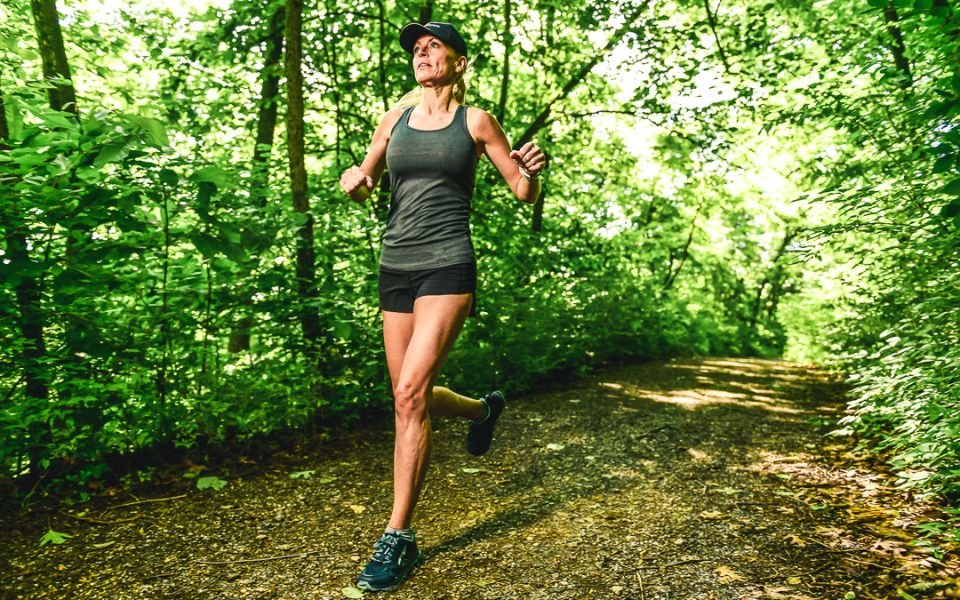 Lightweight, breathable and moisture-wicking are where it's at for trail running in summer months. Light colors will reflect the sun, and look for details like mesh or laser cutting to enhance the breathability of your apparel.
Hot tip: If you can, incorporate UPF apparel into your wardrobe to protect your skin from the sun's harmful rays. It's a nice alternative to bringing sunscreen if you don't want to carry the extra weight.
Bonus hot tip: If you put your moisture-wicking apparel in the dryer (by accident or on purpose—no judgment), avoid using dryer sheets. The wax on the sheets transfers to clothing to prevent static, but it also prevents the fabric from pulling moisture to the surface where it can evaporate.
Don't forget a pair of UV-protective sunglasses and a brimmed hat to protect your eyes and face. After all, UV rays can damage the eyes. We love the Women's UV Protection Hat for summer trail runs because it's made with a lightweight fabric that is moisture-wicking and quick-drying. It comes in multiple colors, making it a cinch to match your hat to your outfit, and the dark underbill reduces glare so you can keep focused on the trail ahead. The UV Protection Hat also comes in men's sizing and features different colors.
Trail running in fall through time changes and dropping temps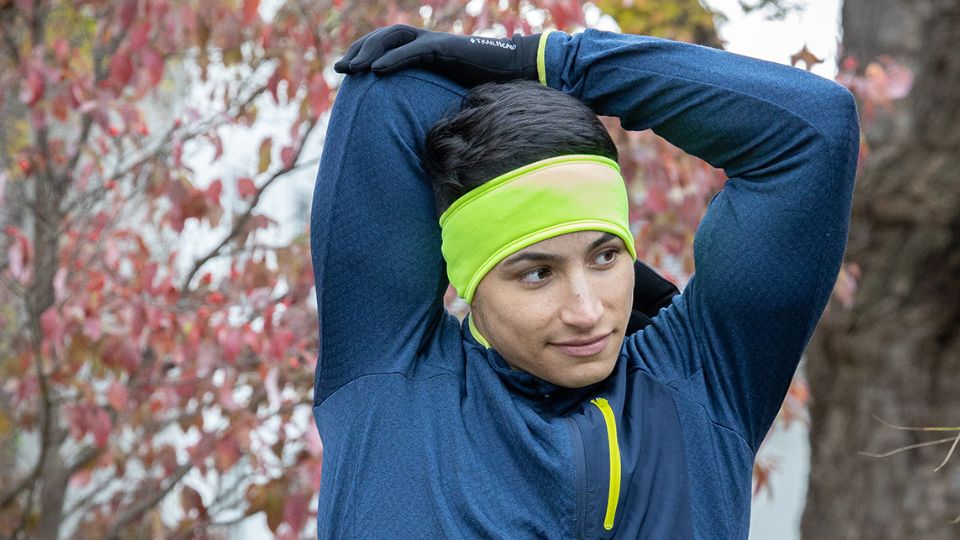 If you're fortunate enough to be able to run from your front door to a trailhead, keep in mind the potential hazards of passing cars, especially during dawn, dusk and dark hours. For that reason, ensuring you're wearing bright colors and reflective gear is essential for safety.
Hot tip: A running kit should include a headlamp. Your headlamp lights your way and makes you more visible to oncoming cars and other runners. 300 lumens should be sufficient to light up any obstacles on the trail.
When temps start to drop, keeping your hands warm will help keep your whole body warm. There's a common misconception that all body heat escapes through your head, but the truth is any exposed body part will lose heat, including your hands. We recommend the Men's Convertible Running Gloves so you can easily alternate between gloves and mittens depending on the temperature. These Convertible Running Gloves come in women's sizes, too!
Adding a headband will help keep ears from getting cold. We love the Winter Running Headband for fall and winter trail runs. This moisture-wicking headband features a contoured fit for full ear protection.
Trail running is fun year-round. Each season presents challenges, but those are easy to overcome with the right gear. Check out our full assortment of TrailHeads gear for all your running needs so you can take the trail less traveled.