Running hats are a useful workout accessory all year round, but they become a particularly important part of your running wardrobe during the hot summer months. Running hats help protect you from the elements like sun and rain, they keep your hair out of the way and the sweat off of your forehead. Below are the features you'll find in the best running hats.
What to look for in summer running hats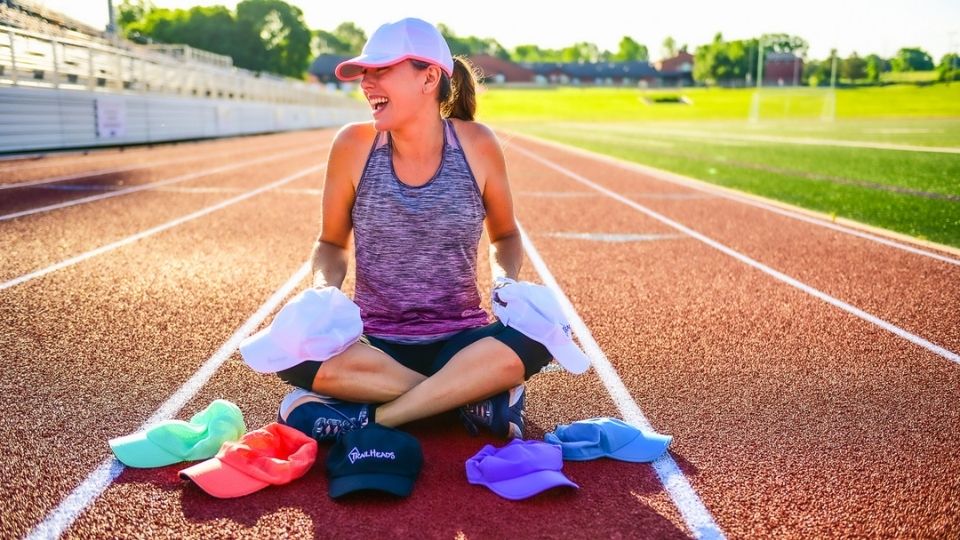 1. Sun protection
Avoiding skin damage is a top priority for many runners who are out logging miles during the sunniest time of the year. Choosing to wear clothing with a UPF rating is a great option for protecting yourself from damaging UV rays because, unlike sunscreen, which will wear off and need to be reapplied, the protection from UPF clothing does not change over time because it is a quality inherent to the fabric.
What is UPF?
A UPF rating, or Ultraviolet Protection Factor, is a rating given to fabrics that indicates the percentage of UV rays the material will block from reaching your skin. UPF is often confused with SPF (sun protection factor) which is a rating given to sunscreens and lotions that are applied directly to the skin. When shopping for sun protection hats and clothing, always look for UPF ratings.
Here is what the ratings mean:
UPF 15-24 - ratings below 15 UPF do not qualify as offering sun protection. A rating of 15 or above has good sun protection, but will let through some UV rays. If you are bald or have highly sensitive skin we recommend choosing running hats with higher ratings.
UPF 25-39 - clothing in this range offers very good sun protection. It will help block the majority of UV rays.
UPF 40-50 - fabric with a rating of 40 or higher offers excellent UV protection. 50 is the highest UPF rating given to fabrics and means that the fabric blocks 98% of harmful UV rays.
Synthetic fabrics typically offer a higher UPF factor than fabrics like cotton because of the fabric structure. The darker a fabric is, the stronger the UV protection factor will be because dark fabrics absorb light, while light colors reflect it away, potentially back at you.
2. Moisture Wicking / Quick Dry Fabrics
The next feature to look for in a running hat is fabric that is moisture wicking and quick drying. Running gets sweaty. It's unavoidable. Quick dry fabrics like polyester will pull the sweat away from your skin to the exterior of the fabric where it will soon evaporate, keeping you drier and more comfortable as you run. Bonus: look for running hats that are designed with internal sweatbands made of wicking fabrics.
3. Dark Underbill
All brims will help to keep the sun or rain off of your face, but getting a hat with a dark underbill further reduces glare from the sun. Light colors reflect, which is an advantage for keeping you cool, but also means more light will bounce back into your eyes. Dark colors will absorb light, improving your sightline. So even if you love the classic look of a white ball cap, make sure to get one with a dark underbill to reduce glare and help you see.
4. Lightweight and packable
The ideal running hat is one that's so light and breathable you forget you're wearing it. And because conditions are always changing while you're running, you want a hat that packs down small so you can tuck it into a pocket or a running vest, during moments you don't want to wear it. Unstructured hats are typically a great option because they will collapse when not worn allowing you to fold up the back. Another great feature is a foldable bill, which will allow the hat to pack down even smaller.
5. Adjustable Fit
When you're moving you want a hat that fits perfectly to your head so it stays in place and your run is spent chasing PRs instead of recovering your headwear every time the wind picks up. Look for hats with adjustable closures so you can change the fit to work for you. There are several types of closure options including hook and loop (aka Velcro), clip closure, bungee pull, sliding adjusters, and snaps. A hook and loop closure is a great choice for allowing you to adjust the fit on the go.
Another thing to look for are hats specifically designed to have a women's or men's fit. On average, women's heads tend to be slightly smaller, so a hat that offers a shallower depth and adjusts to a smaller circumference provides a better fit and feel than your typical, one size fits all options.
6. Reflective accents or hi vis fabric
Look for hats that have reflective accents or hi visibility colors as part of their design. If you are trying to fit in a workout around a busy schedule, or you're trying to avoid running during the hottest times of day, it probably means you're a dusk or dawn runner, and those are the times when it is most difficult for a driver to see you. Reflective and hi vis accents help keep you visible in low light situations, improving your safety on the road.
7. Hair Control
There's almost nothing more annoying on a run than stray hair sticking to your neck or your forehead. Wearing a hat helps keep your hair tucked back and in control during your run. Women with long hair may want to look for hats with an opening at the back above the adjustment feature, which is perfect for pulling a ponytail through and keeping your 'do in place.
8. Style & Colors
You can't leave style out of your search considerations! A hat is a great place to show off your personality, whether you prefer neutral tones, or bright neons and fun patterns. Running hats come in several styles and fits. Here are the terms you need to know:
Unstructured - a hat that will not hold its shape when it's not being worn. The fabric is soft and flexible and will conform to your unique head shape.
Structured - a hat that maintains its shape when it's set down.
Low Profile - a hat where the front panel sits close against your forehead.
High Profile - a hat where the front panel sits away from your forehead
Ball Cap - ball caps are typically low profile, but may be either structured or unstructured
Trucker Hat - a style of hat that is both high profile and structured with a mesh back.
Both trucker hats and ball caps are common favorites among runners.
Trucker hats are beloved for their profile, and often intricately designed front panels. The mesh back of the hat is excellent for promoting air flow and breathability.
Ball caps on the other hand, are easier to pack and carry, and will typically offer more sun protection. Unstructured and low profile caps are more streamlined, which can help make you feel lighter on your run.
9. Easy Care
You want a running hat that is easy to keep clean. If you run regularly you're also doing laundry frequently and there's no need to make that chore more time consuming. Look for hats that are machine washable and dry quickly, so you can clean them with the rest of your gear and have them ready to wear again the next time you head out the door.
Note: modern washing machines can be harsh on clothes. We recommend using a delicate cycle as a way to protect your gear. A delicate cycle will prolong the life of your clothes and protect design elements such as reflective accents.
---
Flexing our brand: TrailHeads Best Summer Running Caps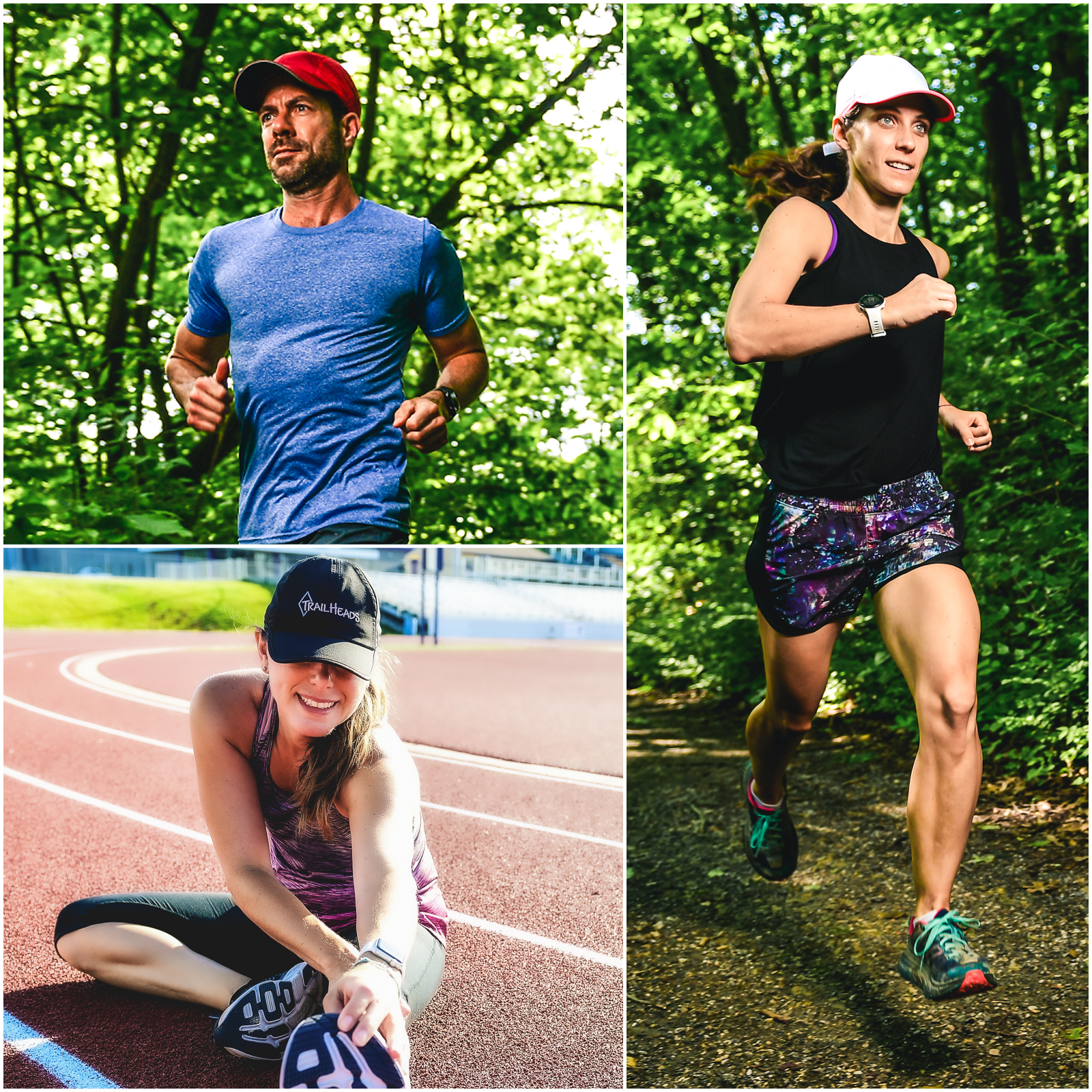 Here are our best loved running hats. Read on to find the one that's right for you.
1. TrailHeads Men's and Women's UV Protection Hats
Our UV Protection hats have everything you need for a great summer run. These sports caps boast a 50+ UPF rating. The fabric is lightweight and moisture wicking, with an internal sweatband to help keep sweat off your forehead. This ball cap is low profile, and semi structured, so it's easy to pack for any adventure. This hat is available in men's and women's sizing and offers a hook and loop closure to further customize your fit. It's available in many fun colors, including some hi vis and reflective options. All color options are designed with a dark underbill.
UPF Rating: 50+
---
2. TrailHeads Race Day Hats for Men and Women
No style is more breathable than our men's and women's race day hats. While these mesh hats are not rated for sun protection, they can't be beat when it comes to comfort. The soft mesh promotes air flow, keeping you from overheating. This quick dry hat has an internal sweatband and the polyester fabric pulls moisture away from your skin so you stay dry. These lightweight hats weigh less than 2 oz and are low profile and completely unstructured, making them the perfect option to wear or pack on any outing. This runner's hat comes in men's and women's sizing, offers an adjustable fit, and is available in a wide range of colors, from classic white and black, to bright pinks and greens. All colors have silver reflective accents and dark underbills, so you can see and be seen.
UPF Rating: N/A
---
3. TrailHeads Folding Bill Hat for Women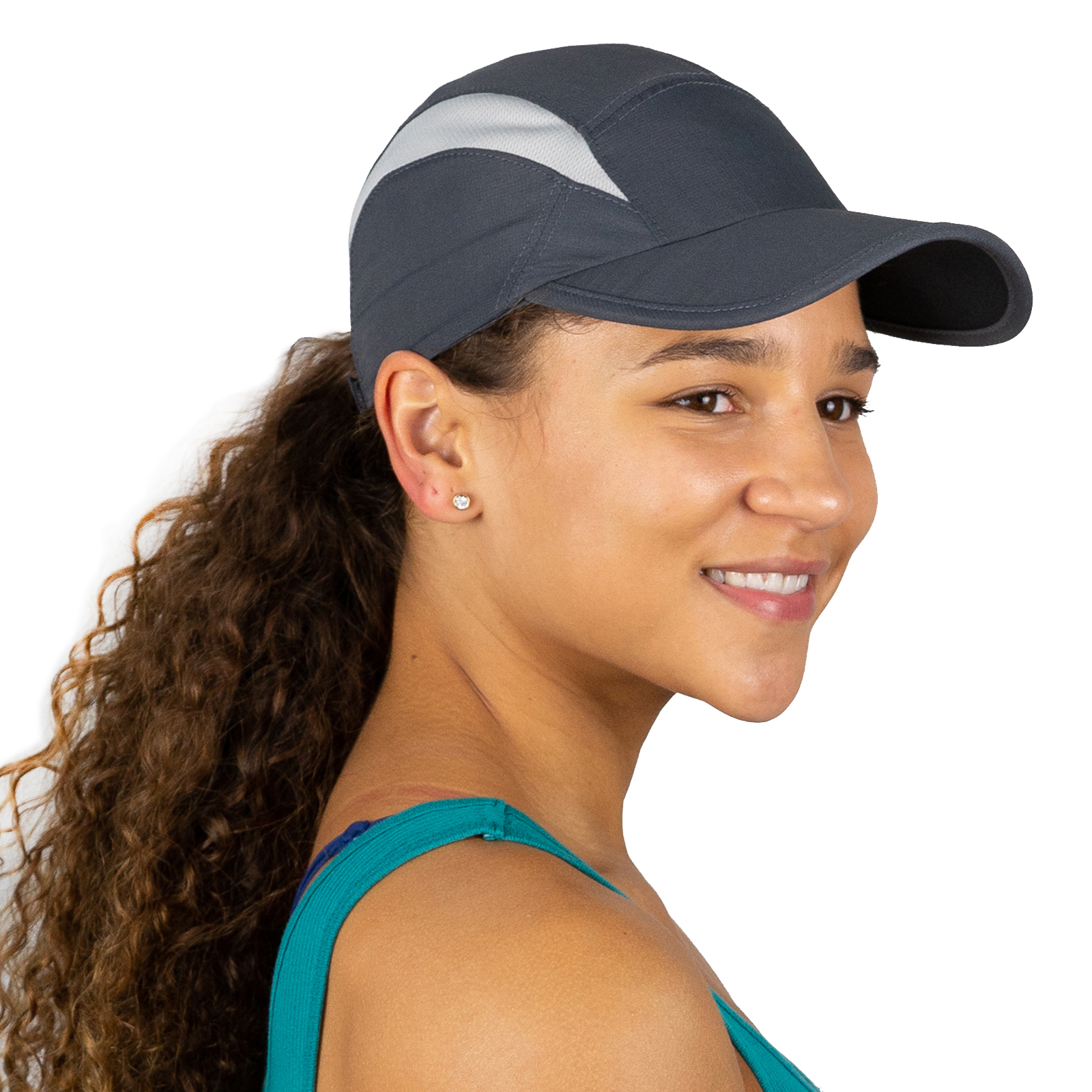 This women's cap has a foldable bill, making it our easiest hat to pack and carry, so you can always have it with you without any inconvenience. The hat is low profile and unstructured, meaning it conforms to your head shape, and a hook and loop closure provides easy adjustment. This style is rated 50+ for sun protection, and like all our TrailHeads caps has a dark underbill for an improved sightline. Mesh panels on the side of the hat provide extra breathability. This women's hat comes in a variety of tonal colors and is available with a stylish floral screen print.
UPF Rating: 50+
---

4. TrailHeads Flashback 360 Hat for Men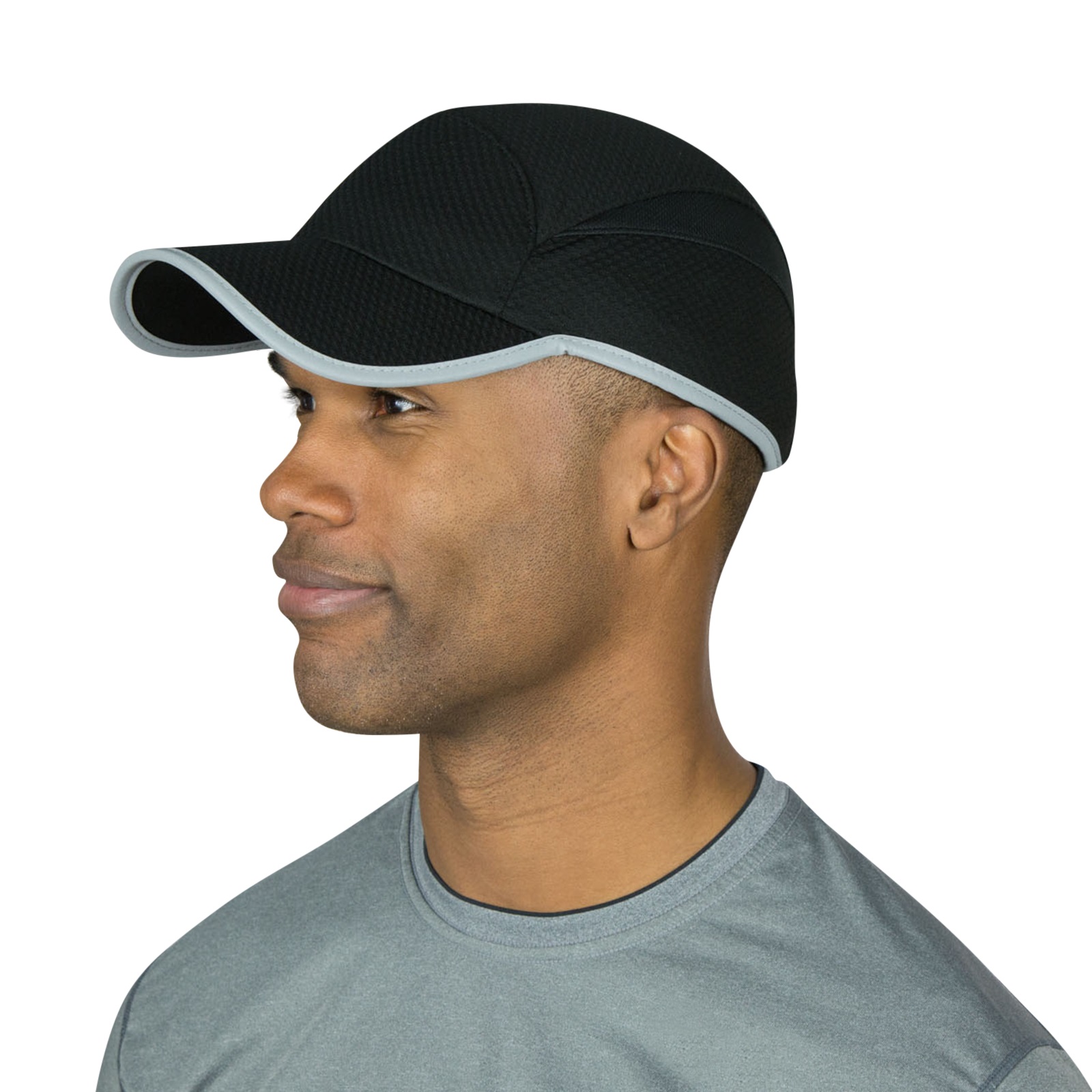 Our Men's Flashback Cap offers enhanced visibility. Silver reflective trim runs along the edge of the hat allowing you to be seen from all sides. This men's hat is also available in hi vis yellow for runners who want an even greater degree of visibility. As well as protecting you in the dark, this style keeps you safe in the sun, offering an 30 UPF rating and a dark underbill. The soft polyester fabric promotes air flow and wicks moisture. This hat offers our widest range of adjustability and will fit head sizes from 21 ¼ to 24 ¾. Select the right fit for you using the clip closure at the back.
UPF Rating: 30+
---
5. TrailHeads Running Hat - Recycled Sports Cap - Traverse Series For Men and Women
Our Traverse Series Running Hats are made with REPREVE®, a certified recycled fabric made of plastic bottles. These hats are ultra lightweight, only 2 oz! They offer exceptional breathability with laser cut vents along the sides of the hat to promote airflow. The fabric is moisture wicking and quick drying, and an internal sweatband provides additional sweat management. Running early or late? This sports cap also has silver reflective accents in an attractive circular pattern, so you can stay seen during lowlight hours.
UPF Rating: White; 29+, Navy; 50+
---