Here's everything you need for a game of tennis to be comfortable and fun.
Tennis is a classic sport. An adaptation of the jeu de paume, an ancient sport, tennis was codified in England in the 1870s. People love playing because it boosts heart health, burns calories, works every muscle in the body and improves balance and coordination. Plus, it's just plain fun.
There is a lot of stuff to consider adding to your tennis bag. Whether you're just starting the game or are a professional tennis player, we've simplified the list and come up with the top 15 must-have accessories for tennis players.
Tennis basics
1. Tennis racket
When it comes to basic tennis gear, a racket is a solid place to start. There are several things to consider when investing in a tennis racket, including head size, grip size, string pattern, weight, balance, swing weight and stiffness. New tennis players might start with a lighter frame and larger head.
The best way to pick a racket is to head to a sporting goods store or specialty tennis store and work with a specialist to select the racket that will best suit your needs.
2. Tennis balls
You can't play the game without tennis balls. These are generally sold in cans containing three balls. A casual tennis player might only need one can, whereas an avid or competitive player might replace tennis balls every set played.
As your skills increase, other popular tennis equipment to stash in your bag includes overgrips and grip tape, resin, string and string savers and vibration dampeners.
Tennis apparel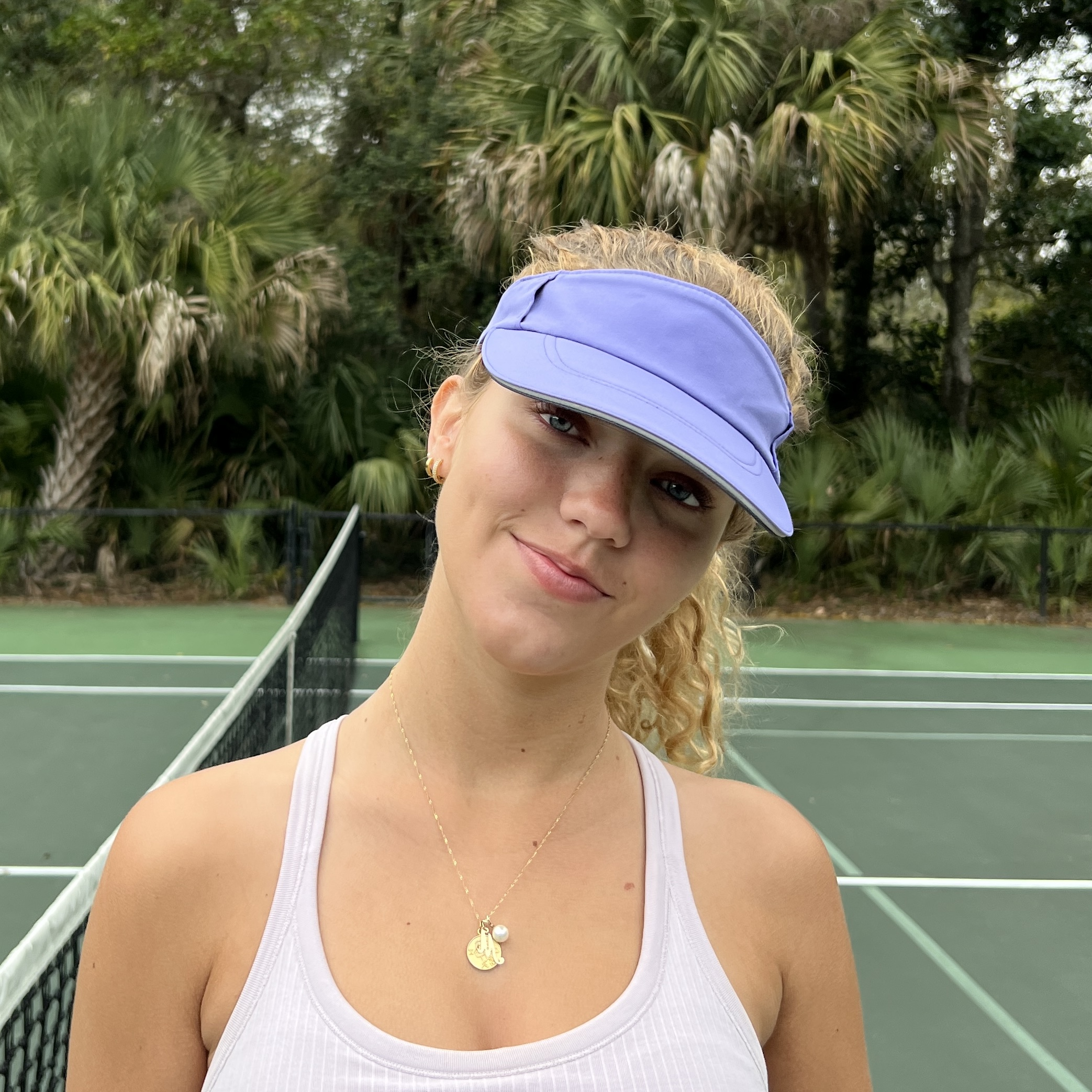 3. Lightweight clothes designed for movement
Look for moisture-wicking, quick-drying and stretchy fabrics. Many of the things you wear for other athletic activities can also be worn for tennis. However, depending on where you play, there might be a dress code.
If you're playing outside, consider layers with UPF built into the fabric. This is helpful any time of year–not just in summer months. In cooler months, don't forget to pack a light insulating layer, windbreaker and fingerless gloves for added warmth.
Headwear
4. Hat
Tennis hats offer several benefits, including keeping unruly hair in check during an intense set, shielding your eyes from the sun or providing scalp protection from sunburn. Our UV Protection Hat (men's | women's) is lightweight, quick drying and features a dark underbill to reduce glare out on the court. This versatile hat can be worn for tennis, running, beach days, hiking and more.
5. Visor
Visors are great for playing tennis outside on ultra-hot days because they allow for maximum air flow. We recommend our Traverse Series Visor (men's | women's) for its moisture-wicking and quick-drying material. Plus, it has slots for safely storing your sunglasses when the clouds move in.
Other handy headwear many tennis players like to wear are sweatbands to absorb sweat and prevent it from getting into the eyes and a cooling bandana to manage temperature.
Footwear
6. Court shoes
Court shoes, also called tennis shoes (not to be confused with sneakers or generic walking shoes), are designed with flat, somewhat-flexible midsoles and non-marking outsoles to avoid leaving marks on the court. These shoes are designed with specific support for quick, forward movements and abrupt stops. Court shoes come in two styles depending on the court type: clay or hard court.
While new and casual tennis players using public courts can wear nearly any athletic sneaker, avid and competitive players playing on private clay or hard courts invest in shoes designed specifically for the sport.
7. Athletic socks
You could wear the nicest court shoes, but without a high-quality sock, your feet are at risk for hot spots and blisters. We recommend looking for athletic or tennis socks with arch support, all-over compression and fully synthetic or cotton-blend yarns for moisture management. You might also consider varying levels of cushioning in the sock based on your preference or how you want your shoes to fit. Remember: some cushioning in your socks can fill volume in a pair of shoes that fit a little on the loose side.
We love MudGear socks. This brand is built tough for outdoor adventure, but these socks are still super comfortable for a game of tennis.
Sun protection
8. Sunscreen
Sunscreen is part of a healthy and robust skincare routine, even when you're not planning on spending extended time outdoors or under the sun. If you're planning to play tennis outside, we recommend applying sunscreen with at least 30 SPF, although 50 SPF offers even more protection from UV rays. Don't forget to reapply using the instructions on the bottle.
We love the mineral sunscreens from Badger Balm.
9. Sunglasses
Like skin, eyes are susceptible to sun damage. Photokeratitis is when the corneas and conjunctiva are exposed to UV rays, resulting in something like a sunburn on the eyes. An easy way to prevent this is to wear a pair of sunglasses.
Roka sunglasses are designed for athletic movement. They are made with ultralight frames and premium lenses and feature a patented GEKO™ non-slip grip.
Injury care and prevention
10. Elbow/knee brace
Braces offer support when you are experiencing discomfort or recovering from an injury. For new players, tennis elbow is a common injury as a result of overuse. Similarly, patellofemoral pain syndrome, or runner's knee, is another overuse injury that many new players might experience. Elbow and knee braces are an excellent way to provide support, but should be used in conjunction with advice from a doctor or physical therapist to correct any imbalances that caused strain in the first place.
11. First aid kit
This one is a no-brainer. Bumps, scrapes and cuts can happen on the tennis court. Having a personal first aid kit handy with cleansing wipes, antibacterial ointment, bandages, anti-inflammatories and more is never a bad thing to have handy.
Nutrition
12. Fuel
When you're playing hard, you'll want snacks to keep your energy up during the game. 2Betties makes tasty, nutritious snacks that are naturally gluten-free, dairy-free, grain-free and free of refined carbohydrates and refined sugars.
Don't have time to chew? We love Endurance Tap for a quick shot of fuel between sets. This tasty fuel is made with pure maple syrup, sea salt and ginger, so it's gentle on the stomach.
13. Electrolytes
Many people drink plain water to hydrate, but during a rigorous match that has you sweating, electrolyte mixes boost hydration to replace the natural electrolytes lost through sweat. Nearly every fluid and cell in your body contains electrolytes, and staying hydrated with an electrolyte drink keeps muscles healthy and performing their best.
We love LMNT because it's tasty, sugar-free and is even Paleo and Keto friendly.
14. Water bottles
You'll need water bottles for your water and electrolytes. We suggest buying two bottles in different colors so it's easy for you to spot which has water and which has electrolytes.
Recovery
15. Massage tools
After a tennis match, it's important to take care of your muscles. Cooling down with a gentle walk and stretching will help prevent your muscles from getting tight. We also recommend using a foam roller or massage tool to keep muscles limber and happy.
These 15 must-have accessories for tennis players make it easy to hit the courts for a good game, any time.
Check outour blog for more tips to help you take the trail less traveled.